AMC Euromeet 1.6.-3.6.2001
(organized in Arboga, Sweden by Swedish AMC Rambler Society - SARS)
Story written by A-V Nauha, all pics by A-V Nauha unless otherwise noted.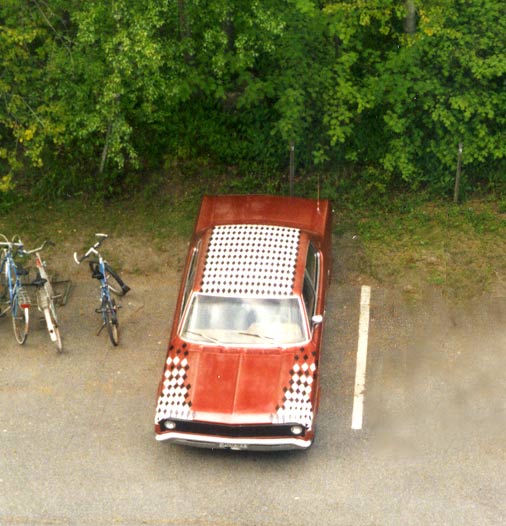 The trip started on Friday when I drove a rental car from Pori to Turku. I stopped at Juha Makkonen's place and found that Raimo Vuorensivu was already there ready to hit the road. Anyway, we climbed up to the sixth floor and drank some coffee & tea and made final plans for the trip. During that time I snapped a shot of our ride to Sweden. At the top you can see Juha's '70 Rebel SST 4D Sedan (slight custom) powered by 304cid V8. It's a cool ride, and even if I was disappointed that my Hornet wasn't ready yet (brake problems) it felt good to know that we'd be taking the trip 'in style'.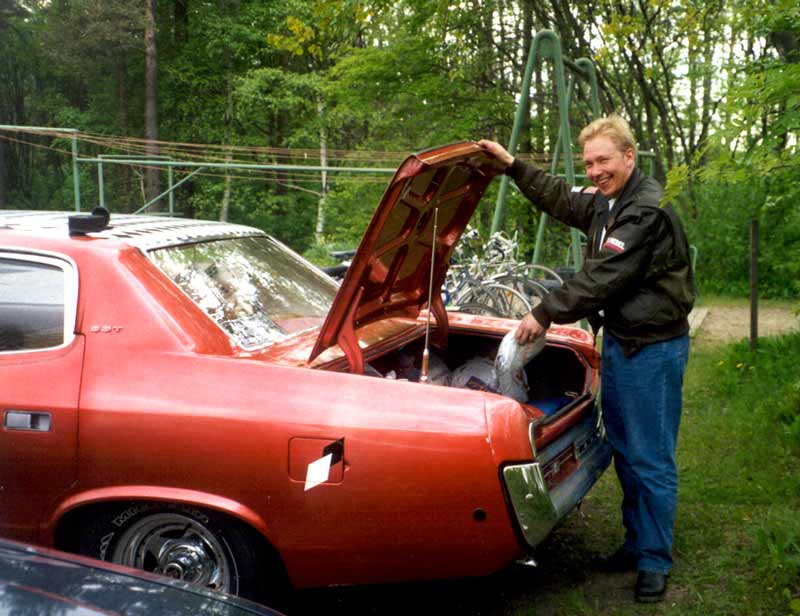 The plans were ready soon, we packed up the car and soon we were ready to go. Here's Juha taking out an AMCCF T-shirt to wear for the trip. He almost misplaced it in the trunk! =) Before we left we met up with Kari Kokkola and his lovely wife. They drove Kari's '71 Javelin AMX 401 from Helsinki to Turku.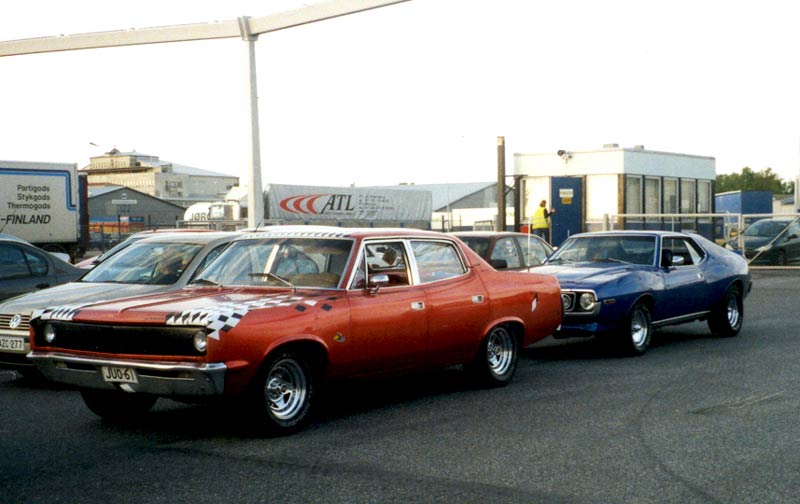 Ten minutes later we were in the Port of Turku (Port Arthur IIRC) all ready to board the ship. We were there early, but still there were around 50 cars in front of us so we took our place in the lineup. You can propably guess how much attention these two very cool cars received from the other people in the same lineup... Here's another shot from the rear.
We took the cheapest ride across the Gulf of Bothnia (from Turku -> Stockholm) which was Seawind Lines. It was a decent ship and quite comfortable, but quite crappy compared to the major sealiners (Silja & Viking). Nonetheless it was cheap, on time and just what we needed. Upon arrival in Stockholm we took the straightest route out of the city and in 15 minutes we were on the countryside driving west towards Göteborg (Arboga is about half way there).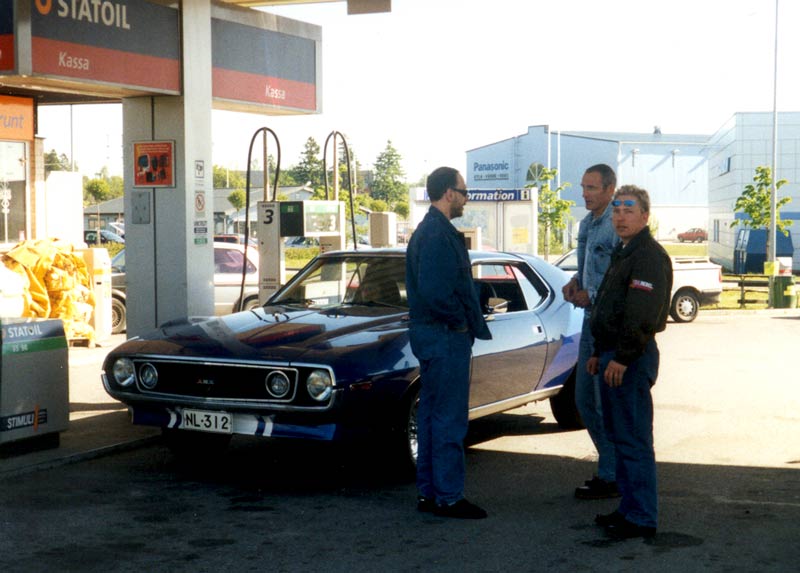 We made the first stop after about an hour and it was just to fill up our tanks with the (cheaper) Swedish gasoline. Here's a picture of Juha, Kari and Raimo beside the Javelin AMX wondering what the gas price is in FiM (our currency). Here's another pic from the Statoil station with our ride. After taking gas we continued the drive towards Arboga taking for the E18 and then the E20. After around 2 hours we arrived at Arboga, the dride there was so easy we could have made it with our eyes closed =). But at Arboga we ran into the first problem.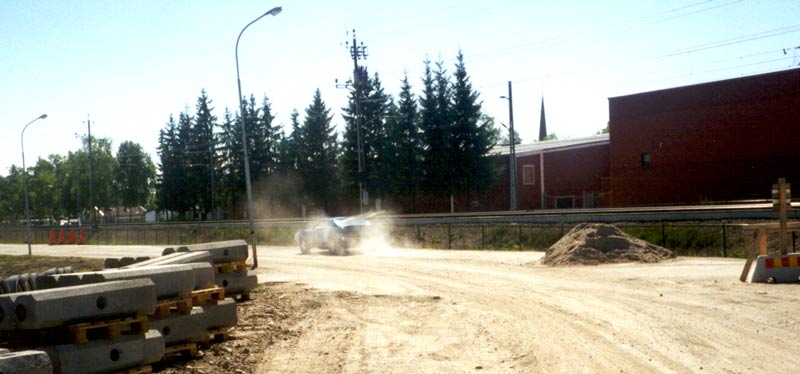 We drove towards the centrum, but couldn't find any signs pointing us to Herrfallet Leisure Center. So we drove around for a while and possibly becouse of the massive amounts of road-construction in the city it took a few U-turns to find our way. In the picture above you can see how a U-turn is made with a Javelin AMX...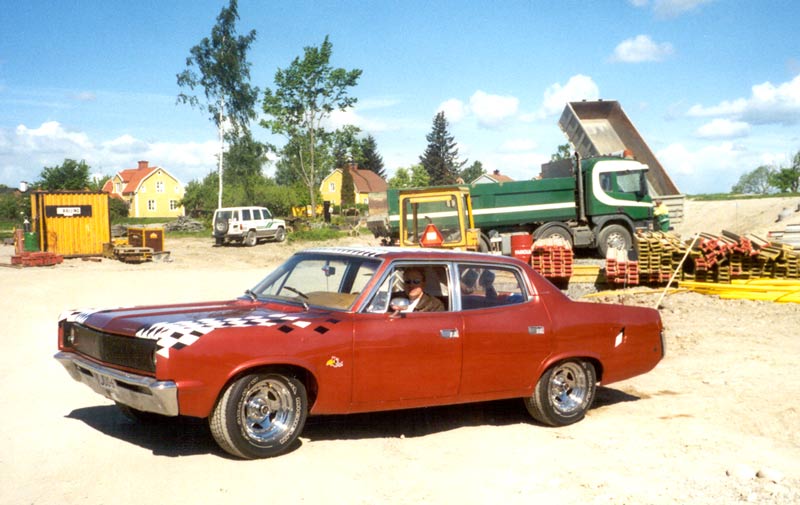 And in this picture you can see Juha's satisfied face when we found another dead-end street. Hopefully they'll have the roads ready next summer!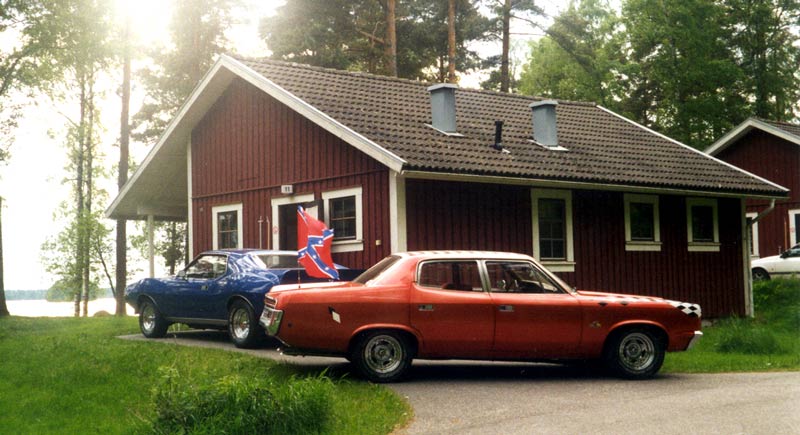 But at last, after another 2 hours of searching (we did stop at a few shops and interesting places along the way of course) we're finally in Herrfallet. Basically it was easy to quite easy to find, after we found the 'Centrum Information' shop in Arboga. Above you can see a picture of our cars in front of the cabin. Herrfallet offers two kinds of cabins for rent. They have very small and very cheap smaller cabins by the camping site, and then they have the comfortable and cozy accommodation in modern cottages. There should be no question which one we chose. =) Our cottage was pretty decently equipped with electric heating, refrigerator, WC, TV, and shower. But no Coffeemachine, microwave, toilet paper or the other stuff we're used to seeing in Finnish cottages. Also a funny thing was that the ones who stay at the cottage are required to clean up the cottage when they leave, I guess there aren't enough people in Sweden to hire up someone to do this after the guests or something.. =) Anyway, our cottage had three bedrooms with a total of six beds so there were couple beds extra and in general the cottage was very roomy and comfortable. If you're traveling in a tight budget Herrfallet also has a good camping site, but the cabins weren't that expensive and plus the view from the patio was simply wonderful so I went out and took a couple pictures for my album. Around this time we realized that we were propably the first AMCers there. Kinda interesting. Nobody on the site knew anything about an AMC meet, not even the people in the Reception... But, it had to be the right place so we settled down.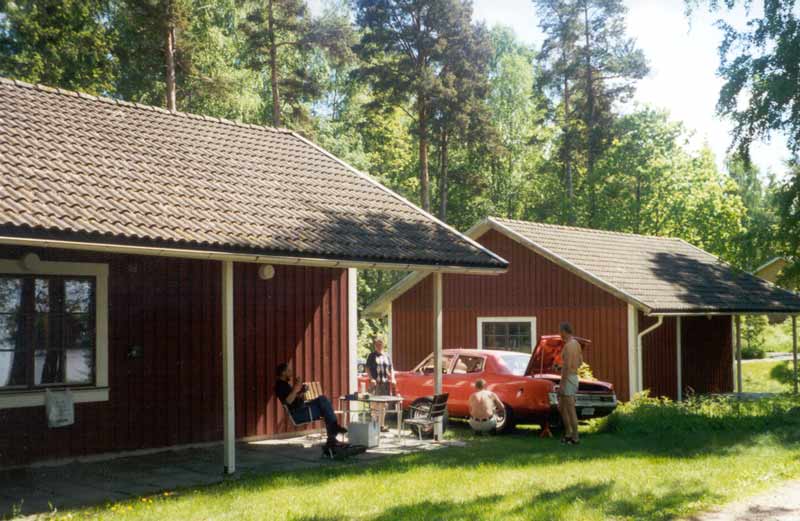 At least some of us did, when I got back from my little walk I found that Juha and Kari had found other stuff to do. They had already started to wonder (as us car hobbyists often do) what the Javelins wheels/tires would look under the Rebel and vice-versa and without fantasizing about it longer hitched up the rears of the cars and they were trading wheels.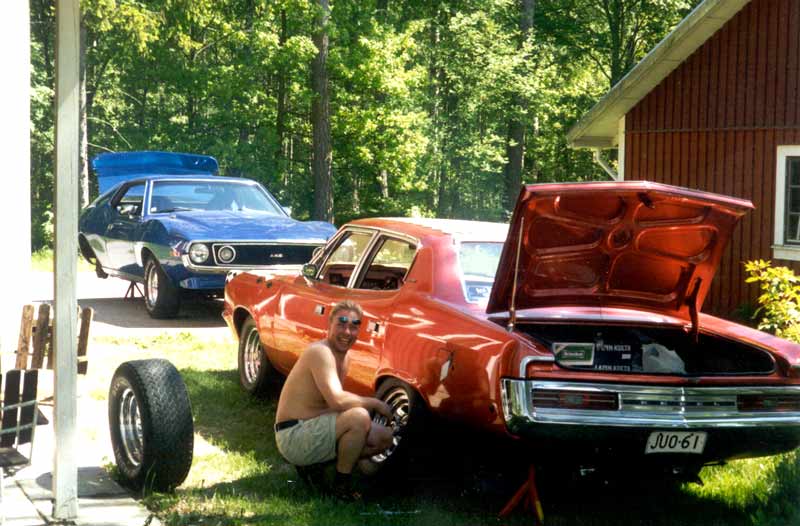 As you see Juha was having fun, and so was Kari, I guess both of the cars had worked too nicely on the trip so they just had to find something to work on them. =) Well the wheels did look nice on both cars, but no exchange was made. =) From the above picture in the open trunk you can propably make out another thing that was opened quite soon after arrival. In good spirits we waited around to see if any other AMCs were showing up.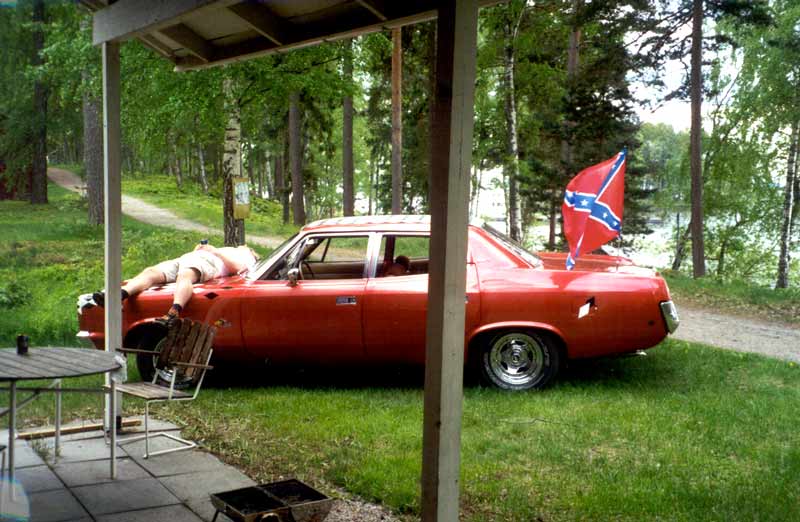 Well, the day went on, and some of us were still tired from the ship-trip and we took advantage of the extra-time we had. In the above picture you can see that Juha was quite pleased with the sunny and warm weather. Here's another picture of Kari Kokkola's Javelin AMX by our cabin and here's another from the rear.
In the afternoon we had some tea, prepared by Kari's wife Laura and we were ready for the event to begin. After the meal we heard a distant rumble of a V8 engine and a slight high-buzzing sound and after a few seconds we were outside to see what it was, and by the time that everyone was outside, it was clear that we were in the right place.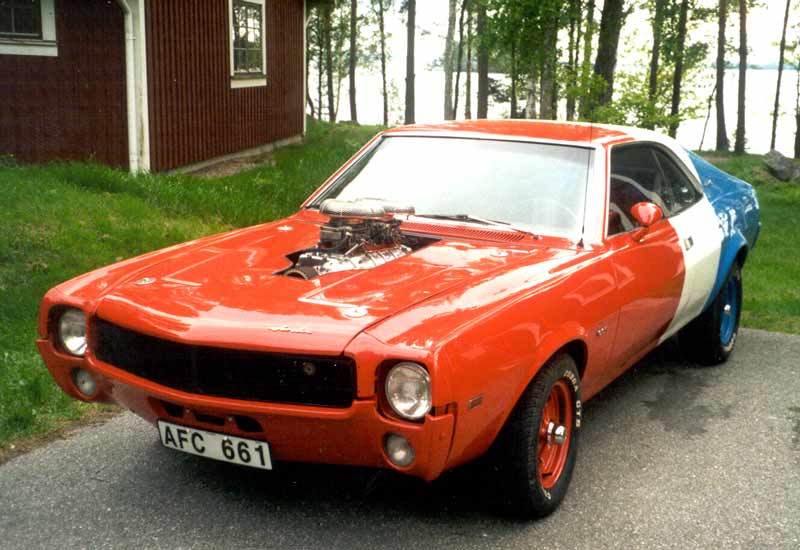 Talk about a COOL CAR. This Red-White-Blue '69 Javelin SST is armed with a 360cid and a TF-727, and as if that wasn't enough the owner installed an aftermarket blower on the V8. You can propably imagine the excitement that was in the air when we saw the first Swedish AMC drive to a cabin, and see this. I think we almost scared the owner to thinking that we were quite mad with praising his wickedly beautiful machine.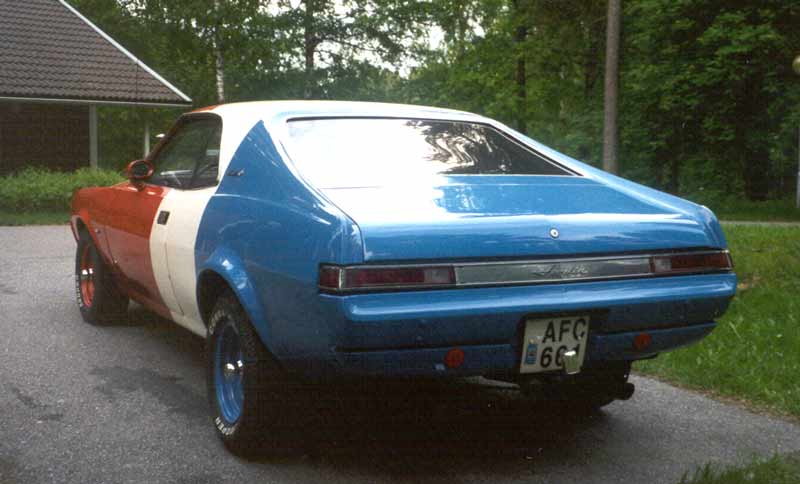 The car looked just as good from the rear, though according to the owner it was still unfinished, missing most crome parts, etc. Here's a picture of the interior, I took it even if the owner said he hadn't gotten around working on it yet.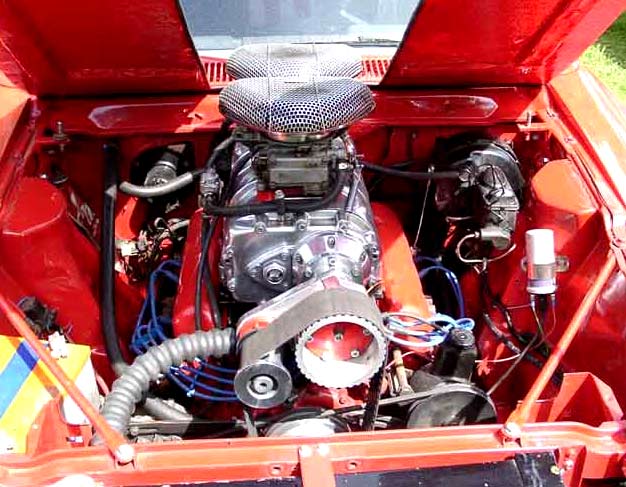 But the engineroom was almost ready. And wow. WOW. Take a look! I cannot remember what the make/model of the blower was, but a friend of mine said it looks like a Weiand. I'll check that later on. One interesting thing that Kari pointed out were the AMC Freeflows in the car... This was one of the last strokes that made me trash the headers and go for the freeflows. If they're enough for THIS engine, they're enough for my 304. And those two carbs on the top, they just ready for action and the extatic wizzing/high buzzing sound the blower made just froze my blood. I want one of these.. =) The manifold that sits under the blower was self-made or so I understood. Here's a closer pic of it and here's one even closer. Hopefully I'll get more pics next year!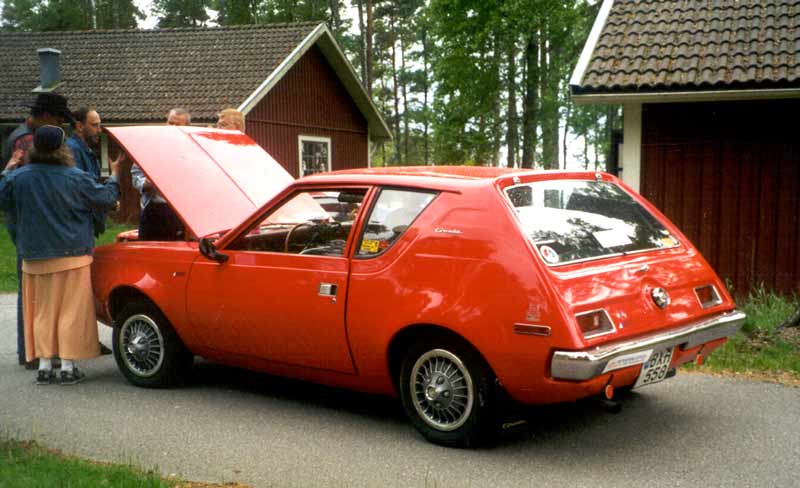 Around 15 minutes later more cars started showing up, and the next one I captured on camera was a '70 Gremlin equipped with a 232cid. A very nice, good looking car. I was particularly interested, becouse I had never seen an intact Gremlin (just a few projects) and there are only 2 of them in Finland. The car is very, very close to a Hornet, but then again... Here's another pic from the front.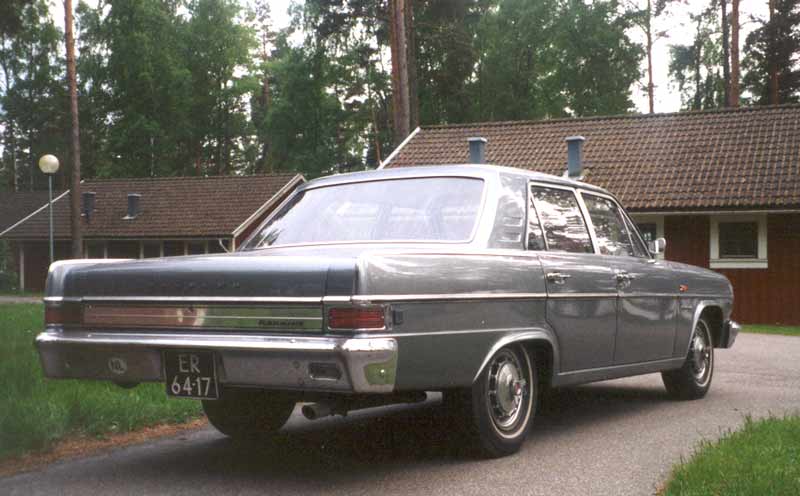 The next car that showed up was this very classy looking '65 Classic owned by Steven Bosdijk from the Netherlands. Yes, they came from even farther than us, and the owner was riding with a fellow from Croatia. Later on the won both of the long-distance awards. The car first appeared to be a typical good condition '65 Classic, but guess again. It's actually a 'Renault Rambler', meaning it was assambled by the Renault plant at Vilvoorde in Belgium. If this didn't make the car rare and quite interesting, there was more.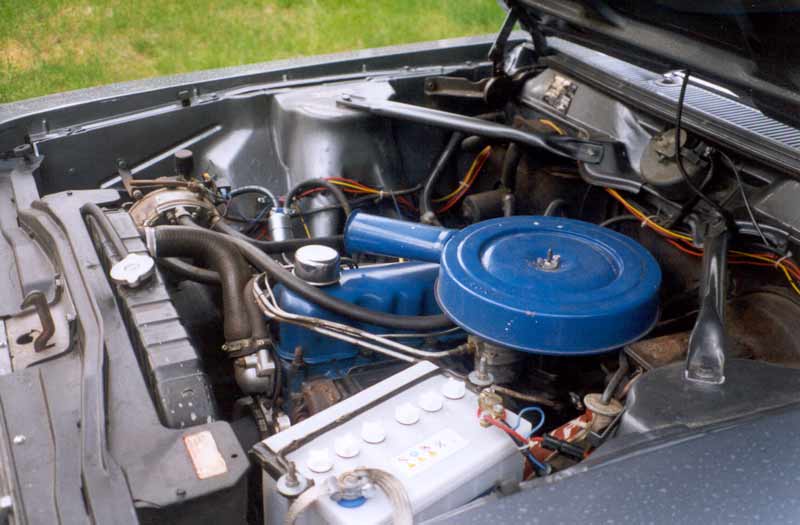 Looking at the engine a sharp eyed AMCer should see something out of place. Guessed it? Yes it's the compressor-type-apparatus on the passanger side of the engine in the front. Any guesses? Let's take a look in the trunk next.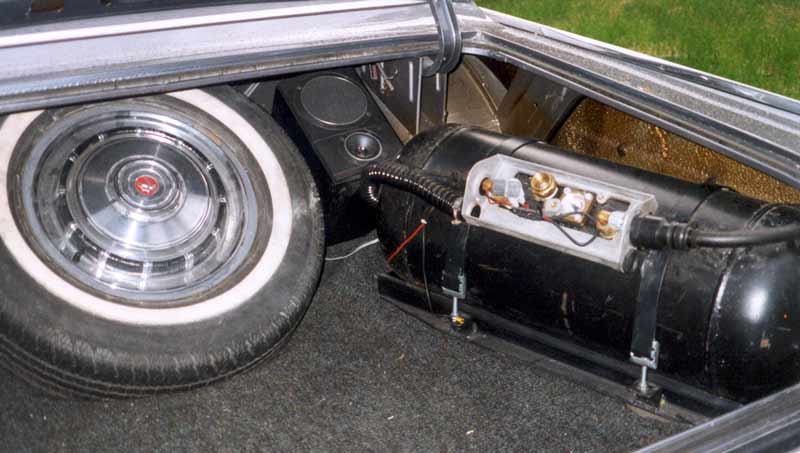 And this is what we found in the trunk. A replacement tank? No, the original tank works just fine, this is here for natural gas. Huh? Yes the car runs on normal gasoline but it's converted some time back to run also on gas which is widely supplied at gasoline stations in Central-Europe particularly in Holland/Netherlands. Quite cool indeed. For more info on the car check out AMCCF Links page for Steven's homepages.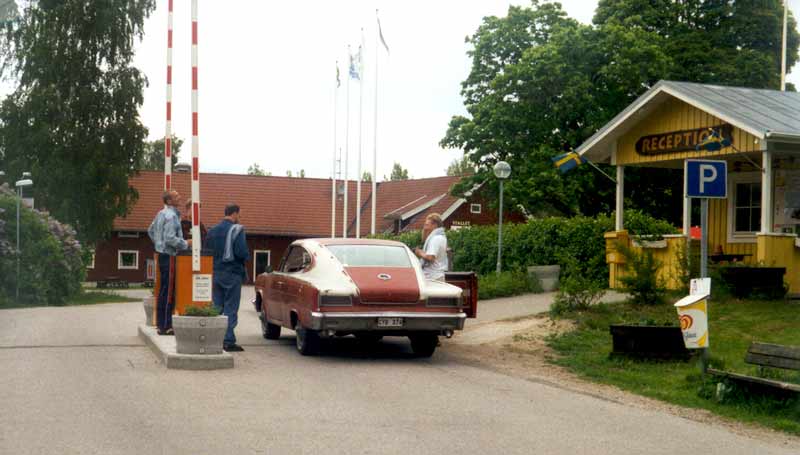 More and more cars started showing up and since all of them were going to be parked in the showfield tomorrow, I gave my camera a small rest (i was running out of film) and took few last shots. In the above picture you can see us taking a ride on a Swedish (ex-Finnish) '66 Marlin to the Reception for the keys to the Sauna. There was no 'all-amcers-welcome' sauna at the Herrfallet, so we had to rent it by ourselves. I guess the Swedish aren't big fans of the Finnish invention or something.. =) Maybe next year? The Marlin in the picture turned out to be an ex-Finnish car, and Raimo Vuorensivu got very, very interested in it, as you can see from his look standing by the car... Later on, he ended up buying the car and drove it back to Finland next weekend, but that's another story.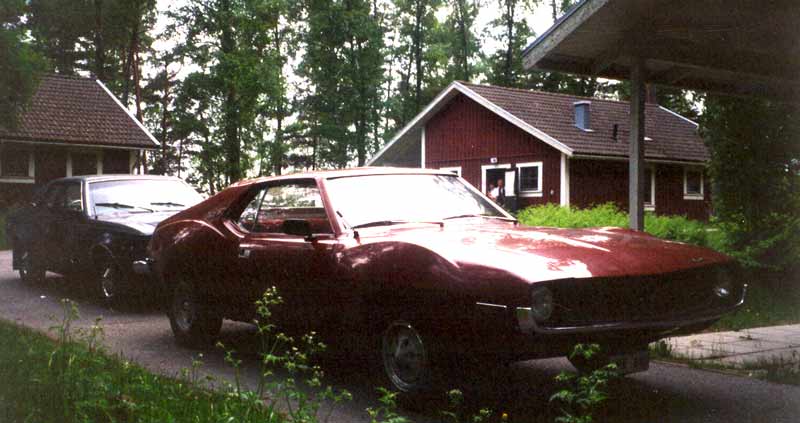 After the Sauna, there was still light for one photo, and here it is. a '71 Javelin 232cid with a '71 Hornet 343cid, not the usual match-up on either one, but very interesting. The Hornet was quite a project during this time, but very drivable (and fast as we found out later on) and the Javelin had a very '80s flake paintjob that none of us had seen for a long time. All together a nice pair. We got to know the family Almkrona better later on, as we drove to their place on the way back to Stockholm to buy some Hornet parts that I needed for my car (I finally found the brake booster and some other long waited parts!!!!). During the late evening Markku Lehto, another Finnish AMCer showed up with his '67 Rebel Cross-Country (bought 2 weeks before from Raimo Vuorensivu). It was late and they had had some problems on the way, and basically the family was a bit tired and we got around to talking with them the next day. A very nice suprise anyhow.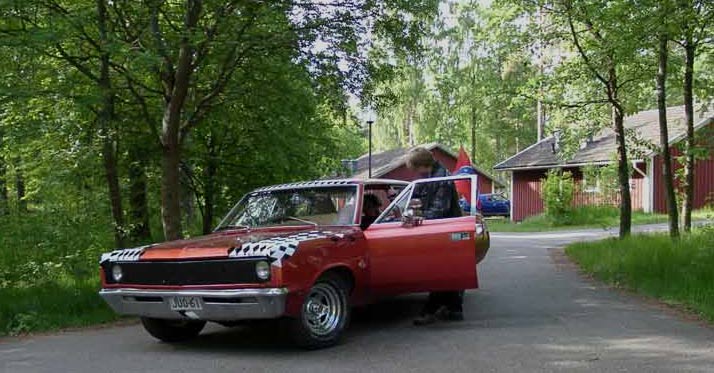 As the night was approaching we were very anxious to go cruising (above pic by Johan Lindersson) and tried to gather a few cars to hit the street with us, but no-one seemed to know that the best time for a mid-night cruise is mid-night and so we hit the streets of Arboga by ourselves. We found one chevy cruising around and about 4 police cars but that was it, not much action at night it seems.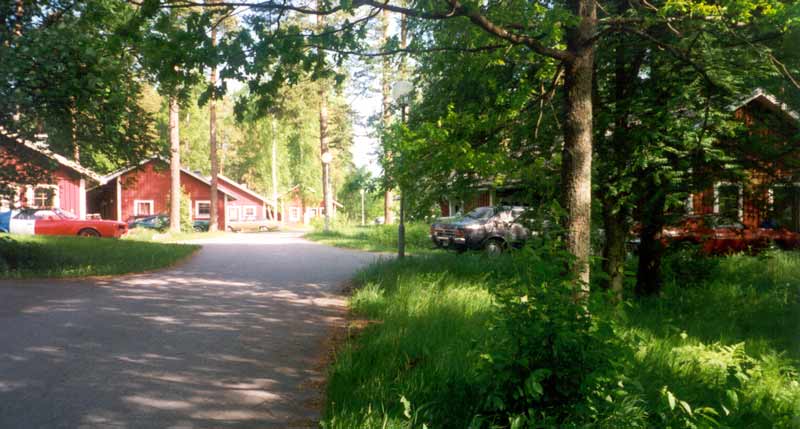 So as the night was wearing short, and we took to our beds and in the morning I got up and took the above picture with a fresh roll of film bought from a SARS member (they didn't sell any filmrolls in Herrfallet!). Basically the morning was a success, AMCs where-ever we looked.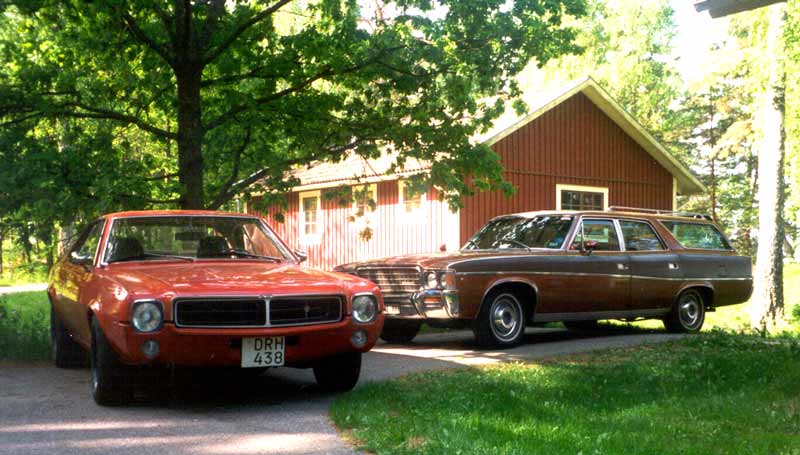 And here are our neighbors from the camping grounds, didn't really get the time to sit down and talk to them (will do that next year), but I just wish my neighbors here in Finland had this kind of cars on their yard... <grin>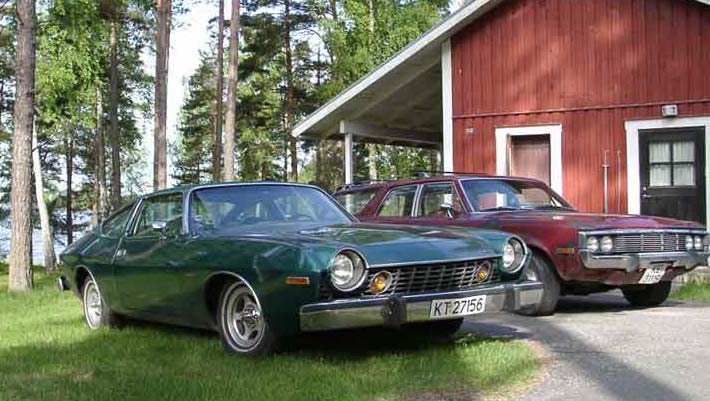 This pair came from Norway (picture by J.Lindersson). Both Matadors, but nothing alike each other. The '75 Matador Coupe was equipped with a 360cid engine and it was very original and in good shape, while the '72 Matador Wagon was equipped with a six-cyl (IIRC) and it was a daily-driver. It was nice to find out that Norway has an active AMC club as well! Here's a pic of the third Norwegian Rambler, a Rogue captured here by J. Lindersson.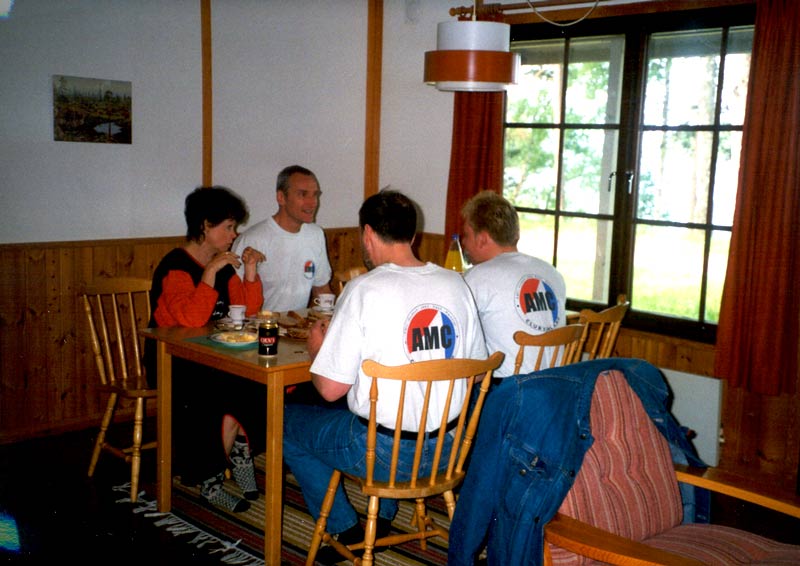 Soon after waking up, we ate breakfast and wondered around the camping site for a while in the very warm weather. All dressed in AMCCF t-shirts it was easy for most people to pick us out as Finnish AMCers =) The welcome was quite friendly. There was also another pleasant suprise when Pasi Riikonen, an AMCCF member showed up by suprise during the day. Had a good talk and then it was time for the show.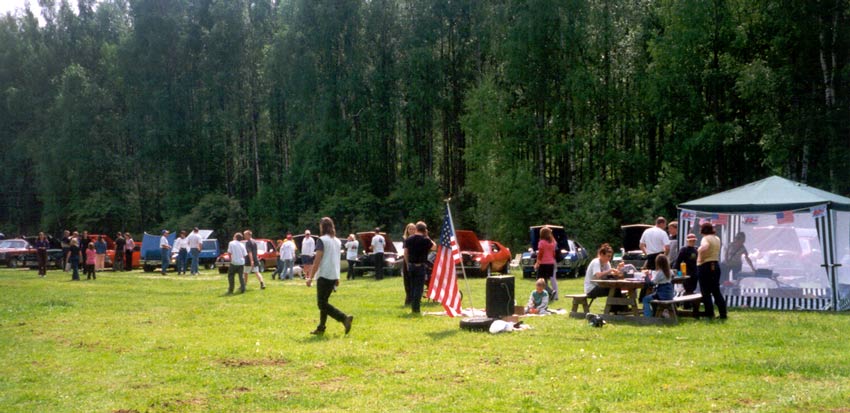 After a few hours people moved their cars to the showfield and the total turnout was great. Some Swedes complained that there weren't many cars there, but for us Finns it was quite enough and there sure was lots and lots of things to photograph... Too bad I had only one roll of film.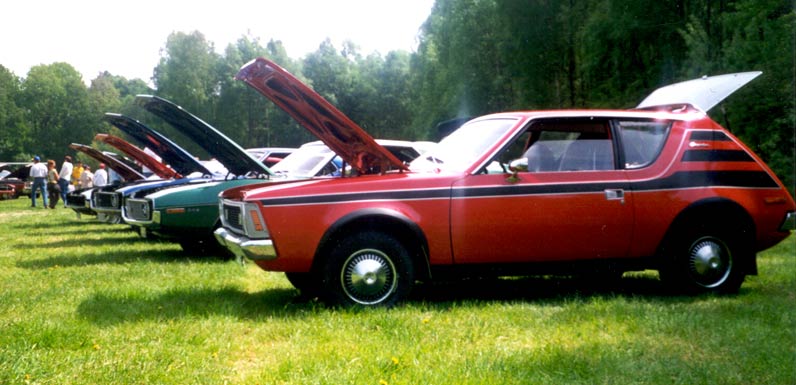 Another suprise was that there were 2 Gremlins present. This one showed up a bit late, but was in time for the show. A very nice looking car with an interesting stripe-kit. I like it very much. Here's an interior shot of the car.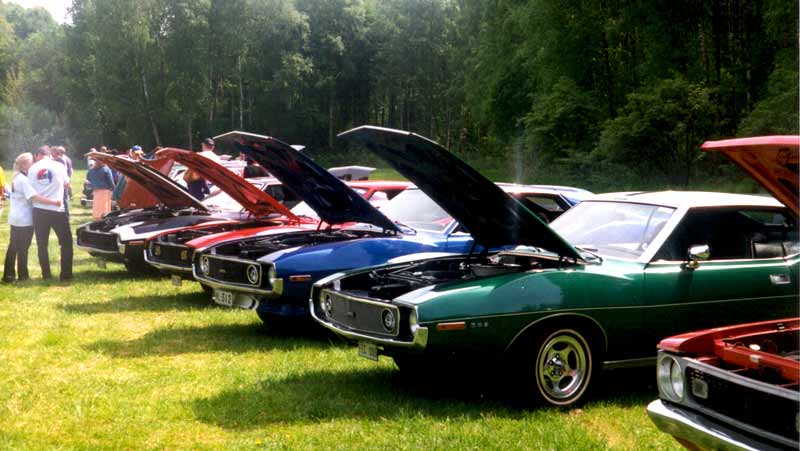 Next inline were the Javelins and there were many. First the later models from left to right can see the green/white '71 Javelin AMX 360 (click here for a rear shot), Kari's '71 Javelin AMX 401 (click here for a pic of the engineroom), then an interesting '73-'74 Javelin with a mopar 440 sixpack engine. There was also the afore mentioned rare six cylinder Javelin (pics later on).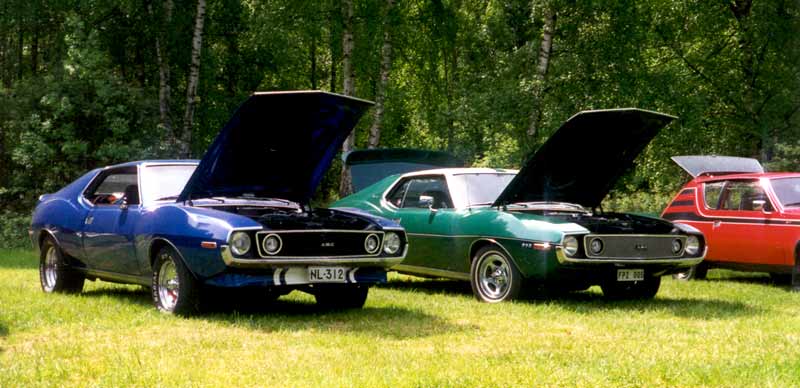 Here's a good pic of the '71 Javelin AMXs together. So alike, yet to different. Both very beautiful cars. Here's a picture of them from the rear and here's a picture of the green Javelin's interior. There was also a third AMX badged '71 Javelin there, but I didn't catch the owner at the show, anyway here's a pic taken by Johan Lindersson.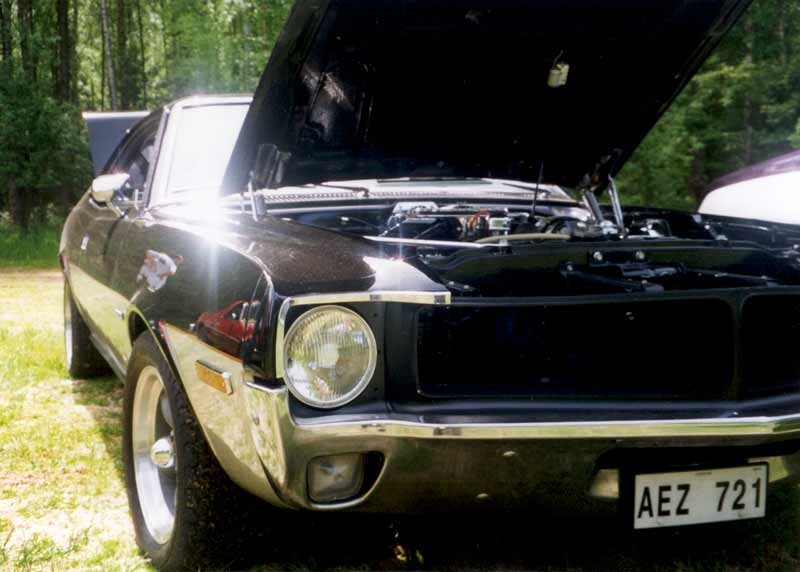 After the later Javelins there was a '70 Javelin SST, a real street-machine with lots of crome and other personal touches. Mean looking car indeed. The car had a hand-made interior which divided a few opinions, but I sure liked it, not everyone likes woodpanels. This Javelin was also equipped with a very nice soundsystem and since the owner spoke Finnish without difficulties we got more information out of this car than most of the others. Hopefully this guy moves back to Finland sometime soon with his car =).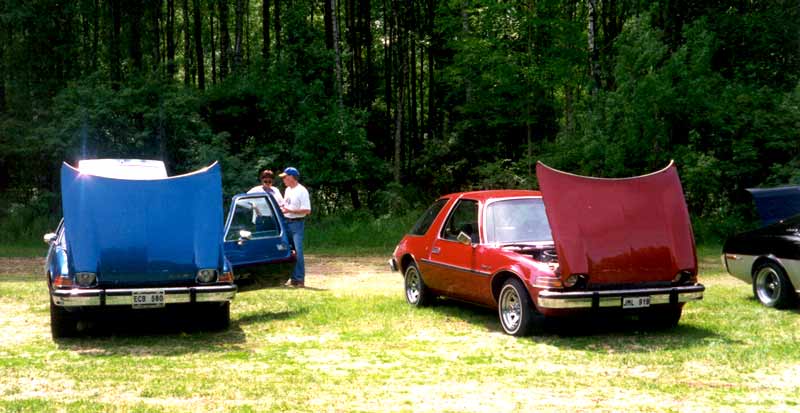 Next in line were the Pacers and yes there were 2 of them present. I had never seen a Pacer before in my life, and it was quite interesting to see 2 to compare. A very different and special car, not like any other AMC ever produced. Some say it's beautifully cute and some dislike it, whichever it sure turns heads.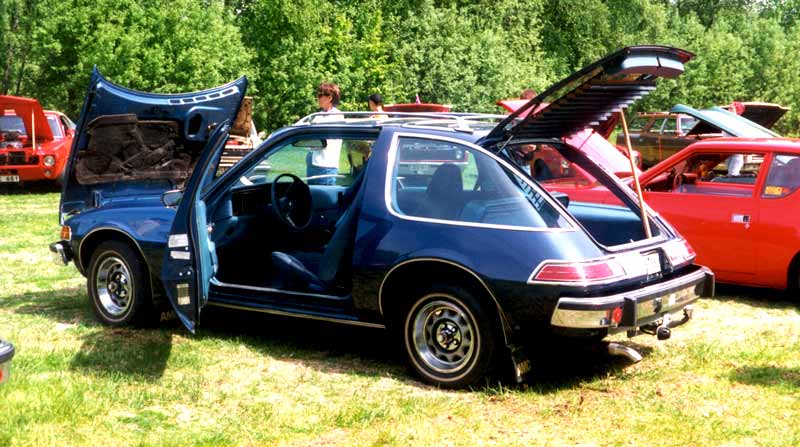 In the above picture you can see the car that won the most awards in the show, it was just like it rolled out of the factory yesterday. Here's an interior pic.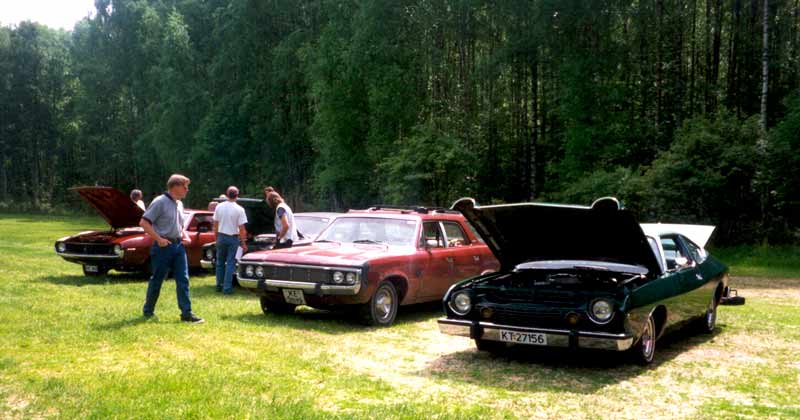 After the Pacers came the 2 Matadors from were from Norway. It was an interesting coincidence that all (2) Matadors came from Norway, and all (2) Rebels came from Finland. =)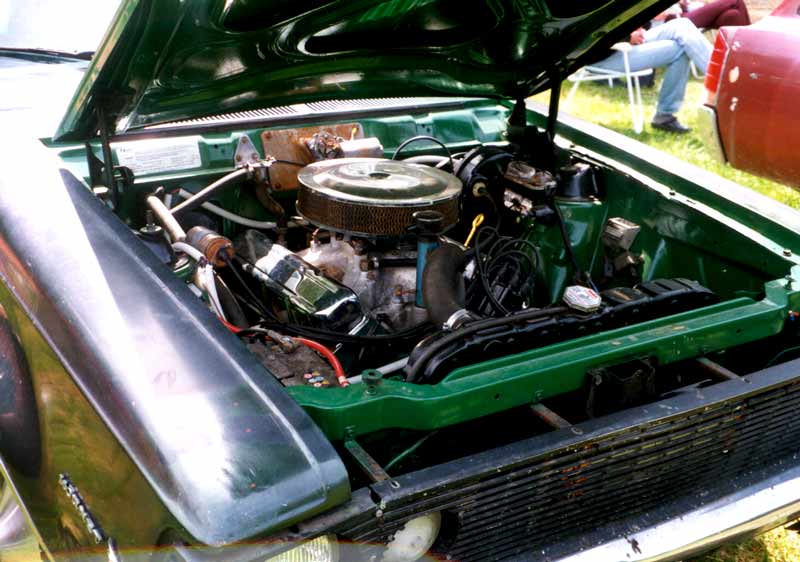 Next in line was the only Hornet there. Not many people approved of it's look, since the exterior was quite rusty and basically it wouldn't pass inspection in Finland, but then again, the engineroom was fully packed with a 343cid HIPO engine from an AMX. The engine was powered up with Torker intake, 750cfm doublepumper, etc. Hopefully the owner finds the time to fixup the car's exterior as well.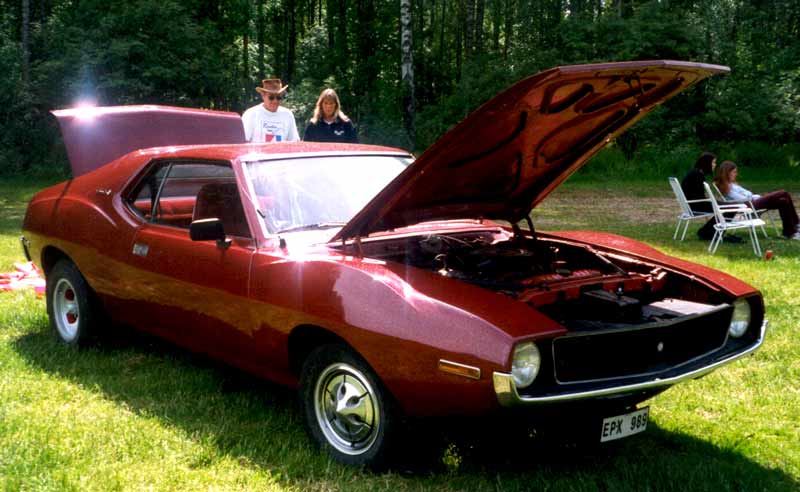 From the same family as the Hornet was this nice looking flake-painted '71 Javelin. It had a 232cid, from what I could gather that had originally been in the aforementioned Hornet. This car was the opposite of the Hornet. The exterior was shiny and very nice looking, while the engine room perhaps lacked the power from the Hornet. I, along with Kari Kokkola really liked the idea of keeping the car with a six, since not many people consider the sixes possibilities and just slam in a V8.. but then again, there are always two sides to every coin. Nice car anyway. Here's another picture of both of Almkrona's cars there (by J.Lindersson).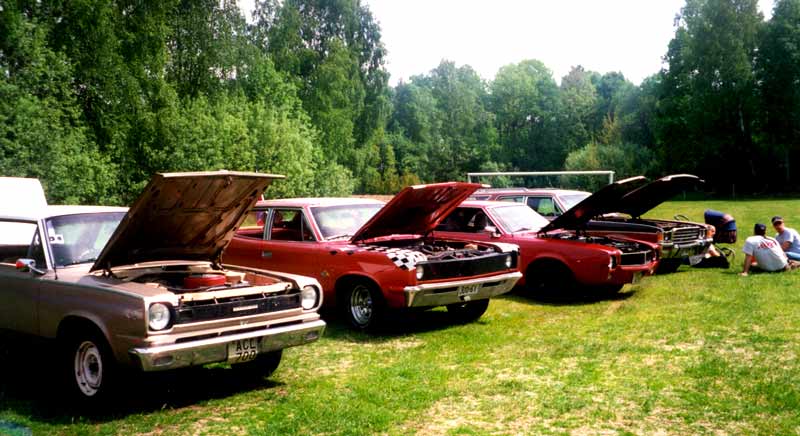 As continued to the other side of the field, next inline was a car that would be very rare in Finland, but from what I hear there are a couple of them in Sweden, a '72 Ambassador DPL Wagon. Also in this picture you can see the mean looking blood-red '69 Javelin, Juha's Rebel, and a '67(?) Rogue 2D HT. I had never seen a later bodied hardtop American, but this one sure did look cool.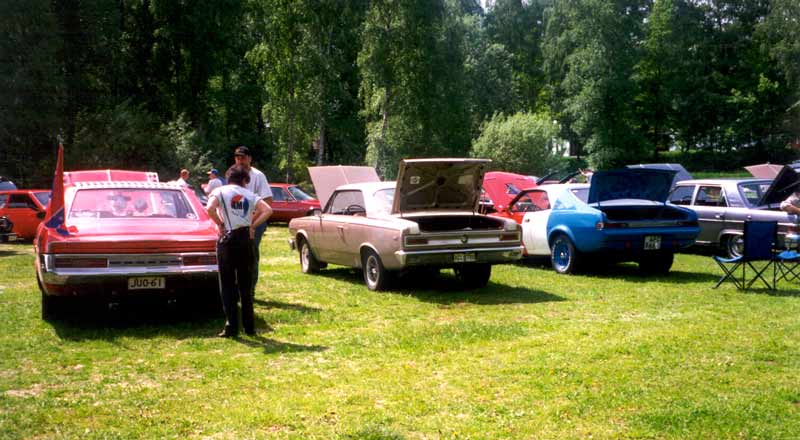 Here's another picture of Juha's Rebel , the Rogue and also in this one you can see the RWB Javelin. Missing from the showfield was Markku Lehto's '67 Rebel Cross-Country.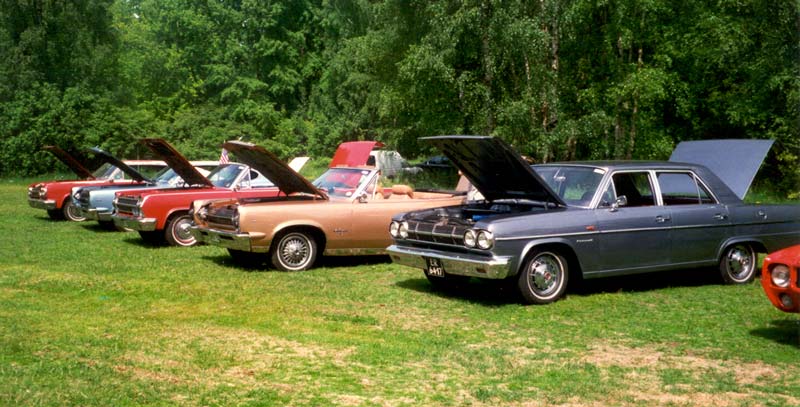 In this one you can see the a nice collection of Ramblers. The '65 Renault Rambler, '67 Ambassador Convertible, '65 Ambassador Convertible, '67 Marlin and last but not least the '66 Marlin that was brought back to Finland. And here's another shot of the same row from the rear. Both of the Ambassador Convertibles were in great shape, and here's another pic of them together (by J.Lindersson)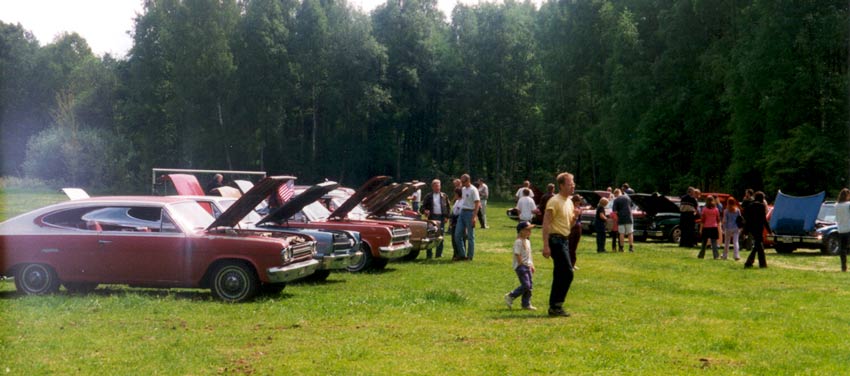 There was lots to see and even more to photograph and I'm quite sure that next year I won't run out of film like this year. Soon after this there was the raffle with different prices, a soccer game for the kids and other activities. Then it was time to lineup for the cruising.
The cruising was organized nicely and we drove around the lovely countryside for a while first and then headed off to a site which suprised us Finns. A castle.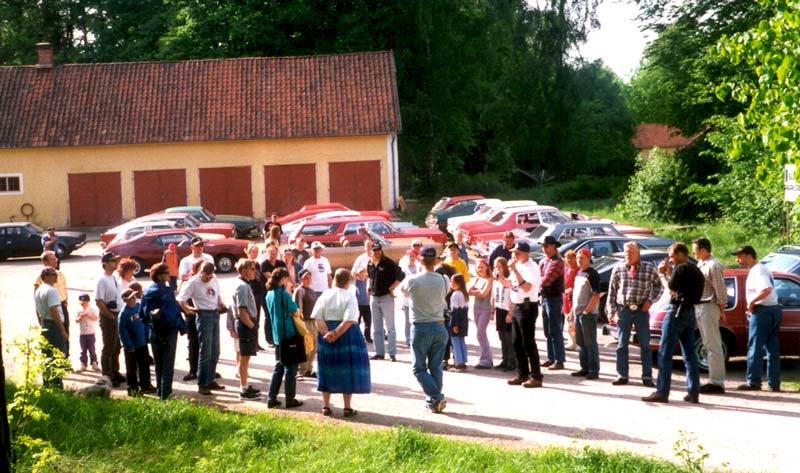 Here are all of us AMCers gathered for the information moment about the castle, I wish all parking lots had cars like this one. (and people like this one). We looked around for a while and after a couple hours (and another visit to Arboga) we returned to Herrfallet.
The following night was nicely organized (though still lacking sauna) and there was time to barbaque sausages, drink beverages and get to know the Swedes and the Norwegians. During these talks Kari Kokkola had the idea of organizing a joint Euromeet in Åland (Ahvenanmaa) sometime 2003-2004. Let's see how it turns out. After bettering the world for a while by the beach, attention turned to the bar-complex by the reception where everyone was invited to sit down, relax, check out some photoalbums brought by everyone and listen to good'ol'rock'n'roll. Nice event all together. But soon it was late-night/early-morning and it was time to go to bed.
Next morning there was nothing in the schedule and very early in the morning (it seemed) people had already cleaned up their cabins and cottages, returned keys and left. So around mid-day we also woke up and checked the Herrfallet cabins for a last time, said goodbyes to old and new friends and started cleaning up the cabin. We didn't make a mess but it was still annoying to make beds / vacuum ON A HOLIDAY. Hopefully the Swedish figure this one out soon.. =)
After a couple hours we returned the keys and headed first to Arboga and then back the way we came. We had talked with the Almkronas at Herrfallet that we'd meet up along the way and go to their place (some 70kilometers north of Stockholm) and so we did. Along the way there we also stopped for a hamburger and a slight break. At a gas-station north of Stockholm we met up with the Hornet and followed it for about an hour and finally arrived at their farm. Nice place alltogether but we were in a hurry to catch the ferry back home so fast talk and fast deals was the game. I bought all the parts I needed, loaded them in the very roomy trunk of the Rebel and we took a quick look around Almkrona's place. In addition to the Hornet and Javelin he also owned another Javelin, Pacer and an Ambassador, if I remember correctly. Quite a nice collection! But there was no more time to spend, we said our thanks and took to the road again.
In about an hour we were at the Stockholm docks and met up with Kari and his wife again. Just in time we drove to the ship and started the way home. Next morning we were in Turku and it was time to say goodbye again. Now when I think about it this was propably the best trip I made that summer, not saying that any of the others were bad, but in this one I was the turist and I didn't have much else to do than to admire the cars. I guess it was a nice change, but then again.. I'm looking forward to summer 2001 AMCCF Cruising & Campings to improve them on what we learned in Sweden. One thing's for sure though, next year I'm driving my car to Sweden! =)