Forssa Pick-Nick 4-5.8.2001
During last year (2000) AMCCF's main event of the year was definately Forssa Pick-Nick, which is a HUGE gathering of car hobbyists from across the country to a 'horse-race' track in a small town named Forssa in the middle of the country. Forssa Pick-Nick is basically the biggest 'one-day' car happening in Europe and more than 5000 cars come to witness the happening, some drive to the track itself, some to the wellkept grass in the middle, some leave their cars outside and come in just to enjoy the show.
Like last year AMCCF met at Forssa 'the day before', but this time a free camping site was organized by Juha Pihkanen from Ruovesi at his grandparents old place in an even smaller town of Somero about 20 minutes from Forssa.
(Most of the pics by me, thought all the first ones were taken by Pasi Tapanainen, a brother of an AMCCF member, so credits go to him for those)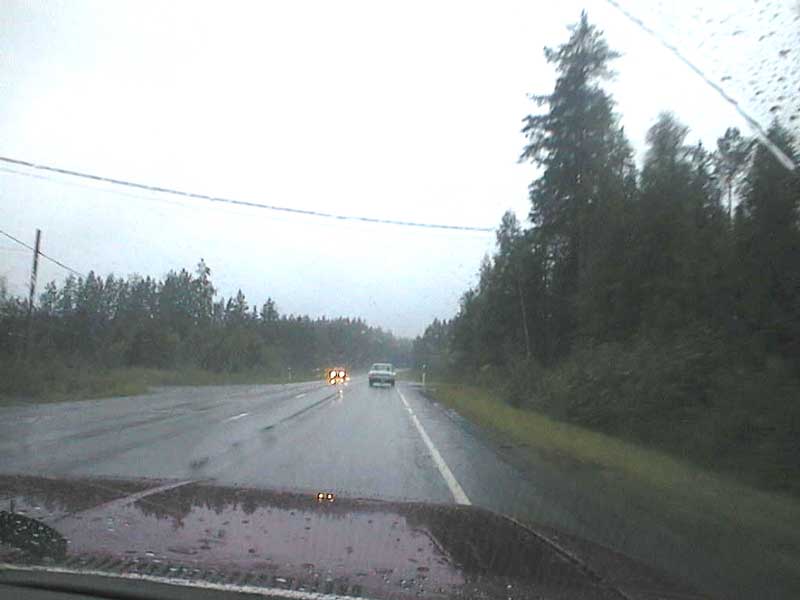 Ok, last year the weather was great (with just one slight shower in the whole weekend) but this time, the day before was seriously blank and depressing. It rained all day and it wasn't looking good the event the following day. The image above just about covers the whole feeling, it's takend from Tapanainen's '70 Hornet 401cid on the way to Somero, and if you look close you can see that he's following Juha Pihkanen whom drove his '65 American 220 2D 196cid to the meet. My car was there of course, and the first time in my life I saw a fully operational 2seater AMX when Sami Toppari drove his '68 AMX 390cid to Somero. Actually he was there a few hours before us just to show off his fast car ;) (just kidding) and let me tell you his car was simply beautiful, and he had taken along an 'AMX PARKING ONLY' sign that can be seen in the pics which came very handy later on at Forssa Pilvenmäki track.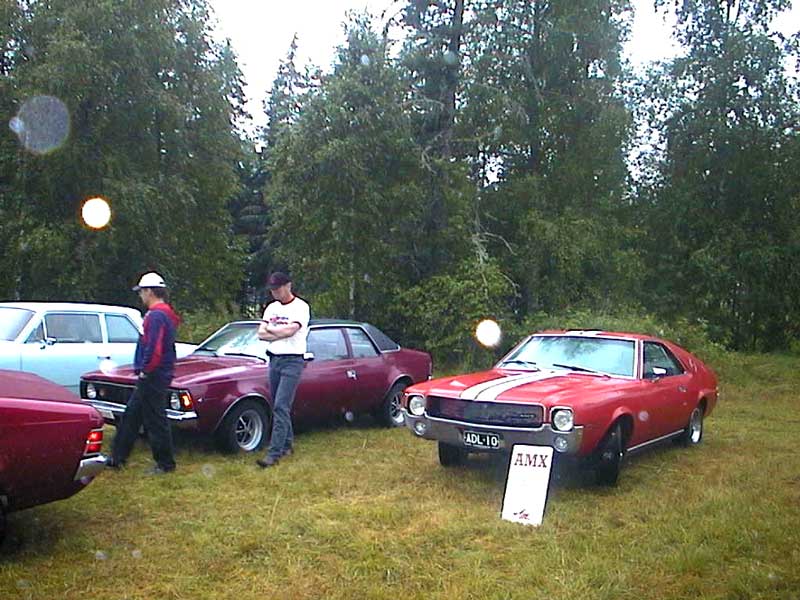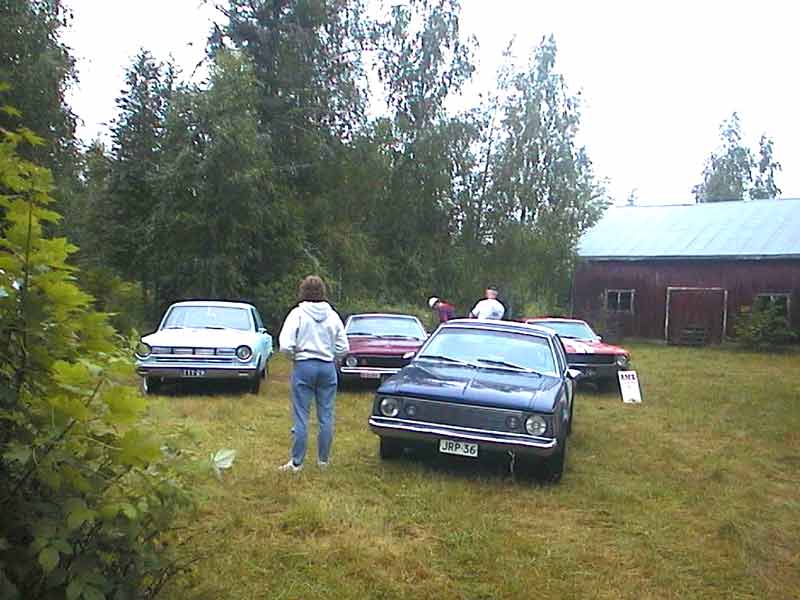 When we arrived at the 'camping place' the suprise was quite pleasant. Juha Pihkanen hadn't promoted the place very much and basically he had just stated that it was "possible to sleep there in the middle of the mildew and decay, bring along a tent." Not very pleasing to the common car hobbyist. The house itself was very much intact (shown in the photo below) and Juha had cut the grass on the yard so it would have been quite easy to set up a row of tents outside even if it was raining. Happily the rain almost stopped as the night approached, and we bathed in a very cozy original Finnish sauna, had a few beers, and along the night it became clear that we'd all be able to sleep indoors at comfortable and soft beds laid down on the floor. During the evening a few AMCCF members called and checked on us and how we were doing, and one unfortunate member broke his '71 Matador 232 right before he could get to Forssa, we tried giving technical advice, but we lacked the part he needed for his car, happily someone else helped him out on the road and he made back home safely.
Later on that night AMCCF members 'Karva' (Markku Lehto) and 'Hande' (Hans Kaario) dropped in by suprise, and to their bad luck Karva's '67 Rebel X-country had some issues with the newly put in automatic tranny, and it had stopped their trip about 80km short, but happily a aquintance of their's gave them a lift to the camping site and Juha Pihkanen next day gave them a lift to Forssa. It was great that they made it as I had never before met Hande, which turned out to be a walking dictionary of Rambler information, I mean seriously, these two know their stuff. Happily so did Tapanainen and Toppari, and their discussions carried late in the night.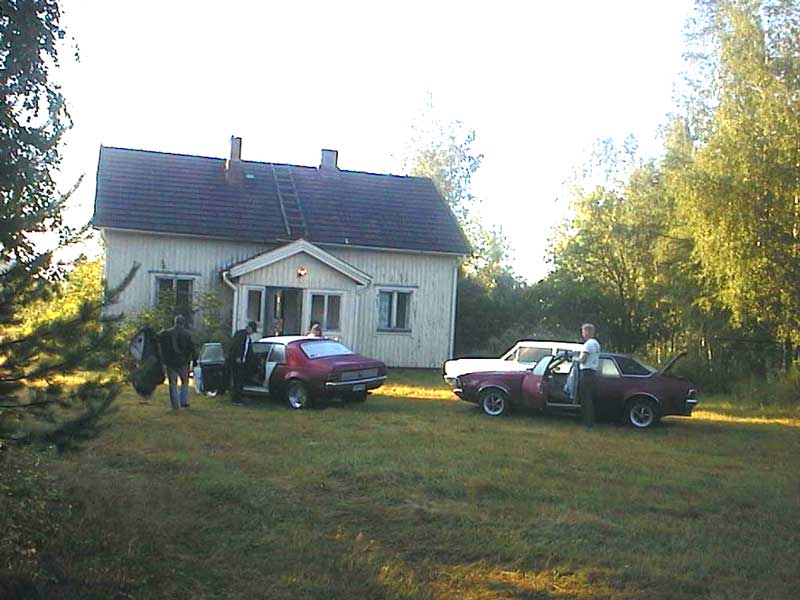 Well, the morning was another VERY pleasant suprise. The sun was actually rising, and no clouds were visible in the sky!! It was gonna be a sunny and warm day afterall, which meant the Pick-Nick was gonna be another hit event! We loaded up the cars fast and headed for Forssa Pilvenmäki track.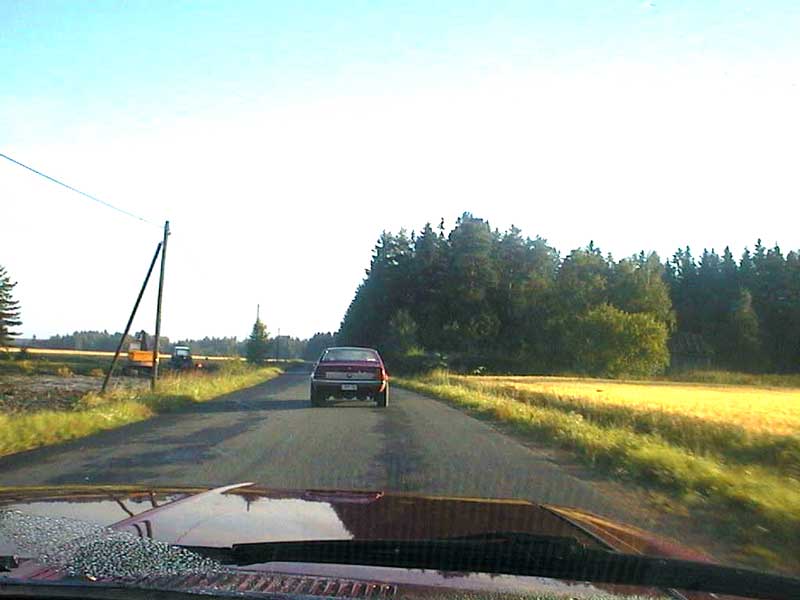 When we got to the track it was clear that the day was turning out beautifully, I still had my doubts during the drive there, but they were cleared quite fast. I love the idea of taking a pic out of the car while traveling, I've taken a few myself, and I was very glad so had Pasi. This pic sure goes into my hall-of-fame ;)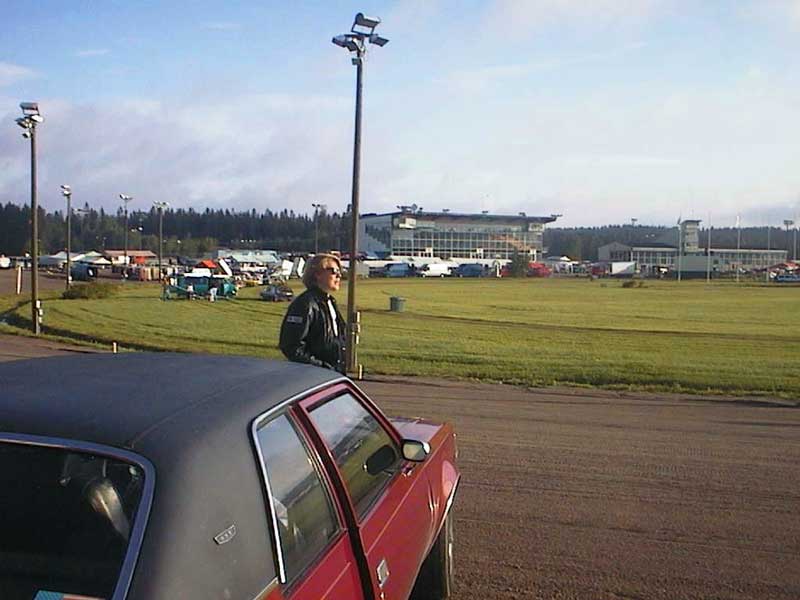 My car was number 41 on the track, meaning out of the 3000+ cars showing up, we were almost the first ones there and we could choose the best place wherever we wanted, and so we did, at the last full corner of the track where most people wonder first. It's also the place that all the cars pass to exit the track later on. Another great pic by Pasi, thought I would have liked to stay hidden ;)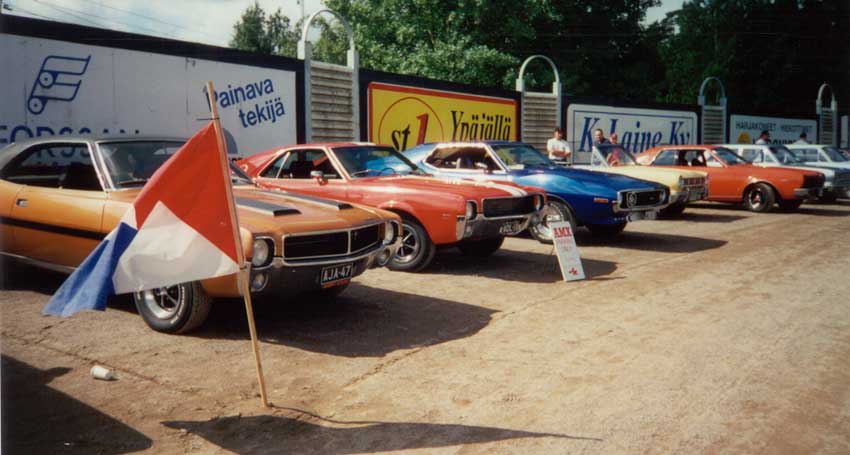 Soon after this cars started showing up to the grassy field in the middle and to the track itself, it was quite cool, since you just don't see this many US-cars anywhere else in Finland (maybe some of the bigger cruisings, but Pick-Nick is still the best...) Here in the picture's foreground you can see Aki Kulmala's '69 Javelin SST 390, Sami Toppari's '68 AMX 390, Kari Kokkola's '71 Javelin AMX 401.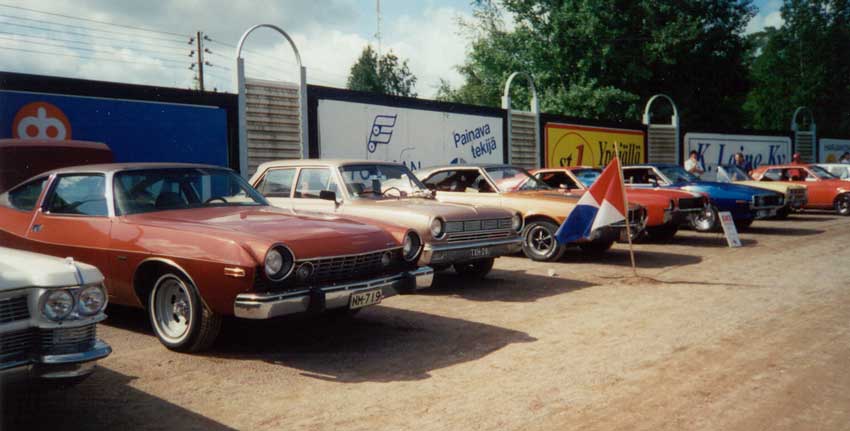 In this picture you can see Petri Nöjd's '73 Matador Coupe 360 and Kulmala's Uncle's '65 American 330 4D 196.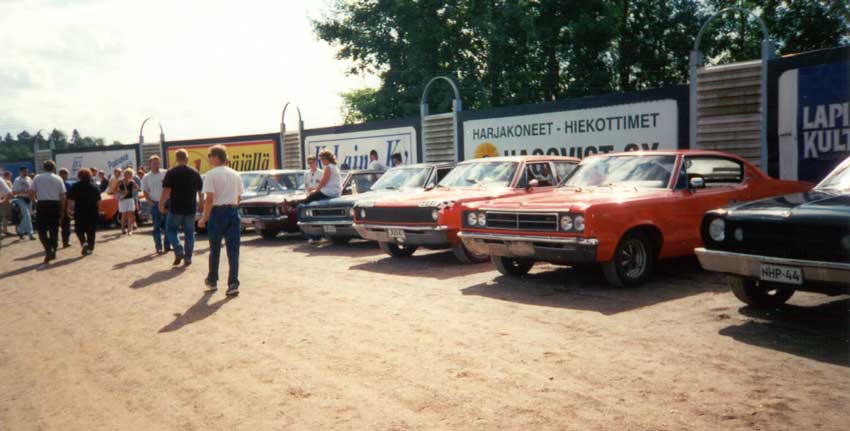 This one shows off a corner of Juha Makkonen's both '70 Rebel SSTs, first one being 2D HT 360, and the second one 4D 304, next in line (if you can see it) is Jouni Lipponen's '67 Rebel 4D.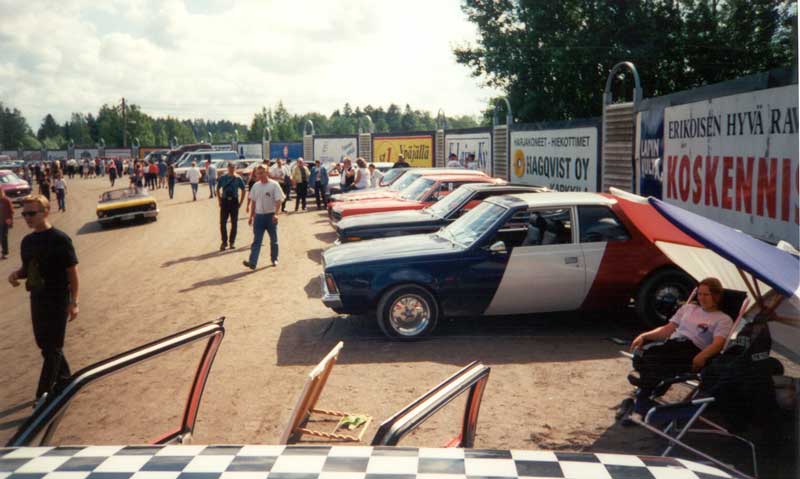 AMCs mingling with big three makes isn't such a common sight in Finland, any AMC whatever is rare, so many people whom walked by had never seen so many AMCs in one place, neither had I... ;) In this picture you can see the cool sun-cover that Anu made the day before the pick-nick, as you can see, it sports the RWB, and so it's fits right by my Hornet quite nicely ;)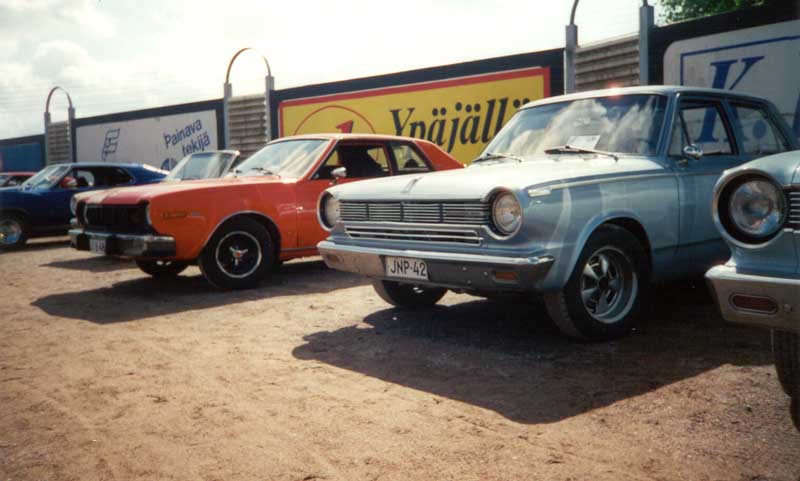 Here's a picture of Teemu Ketola's '65 American 330, it's got a mopar v8 in it, quite a cool car, too bad for the boat anchor ;) In the picture is also Petri Henttula's '70 Hornet SST 304 (which has a '76 front clip as you can see...)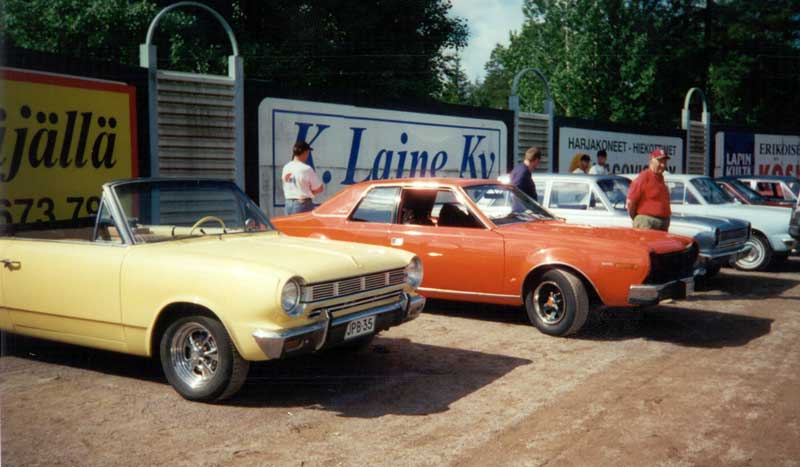 Here's another shot of Henttula's Hornet and it also shows Raimo Vuorensivu's ultra-cool '65 American 440 Convertible 232. He wanted a Rambler convertible, couldn't find one for sale in Finland, so he got one from the States, and after a couple years, it's getting 'almost ready' according to Raimo...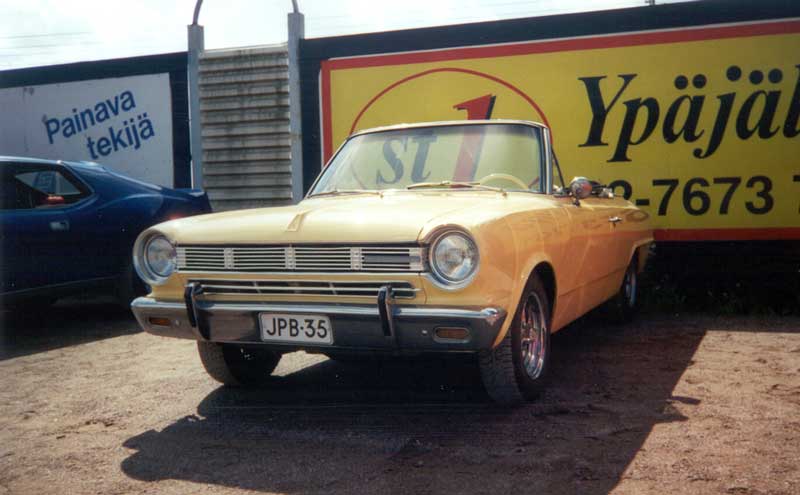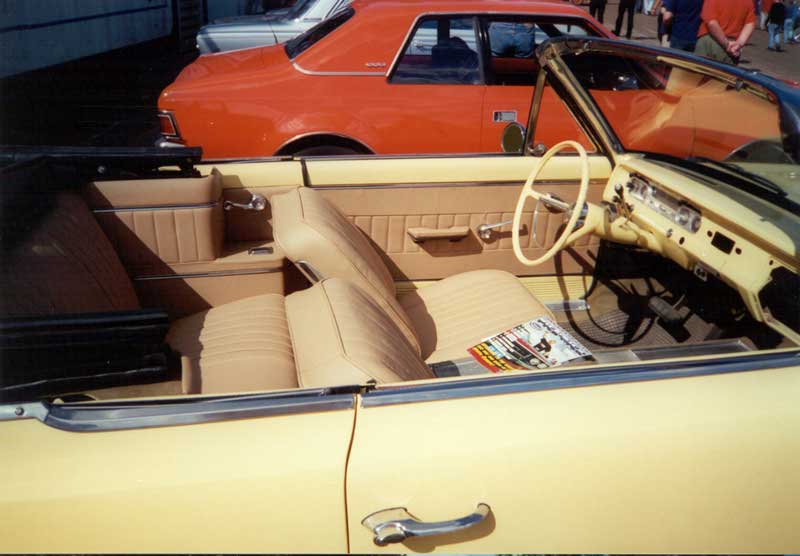 Couple other pics of this cool '65 American convertible .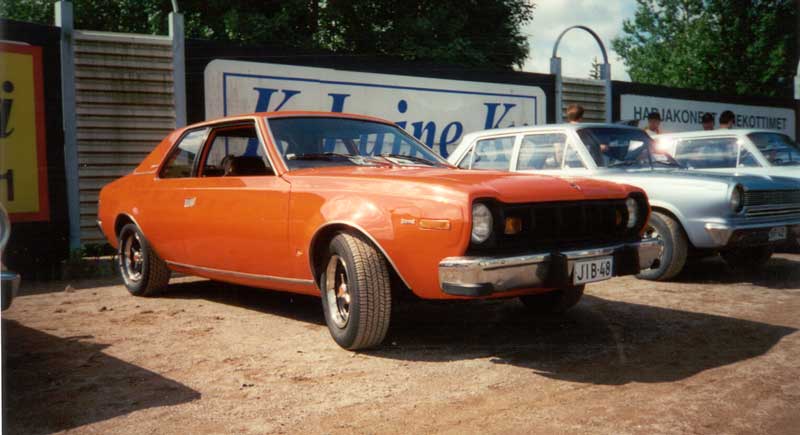 And another of Henttula's '70 Hornet.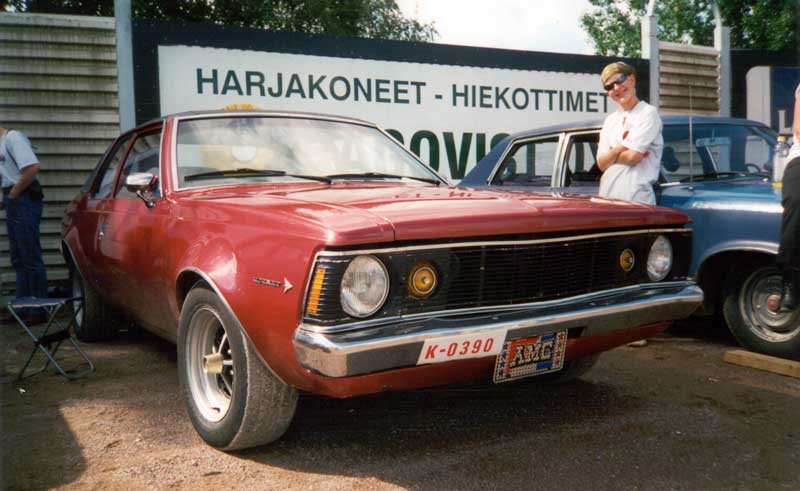 Here's a good pic of Vesa Tapanainen's '70 Hornet SST, he wanted horsepower, so he put in a 401cid... The car is quite fast, or so I hear.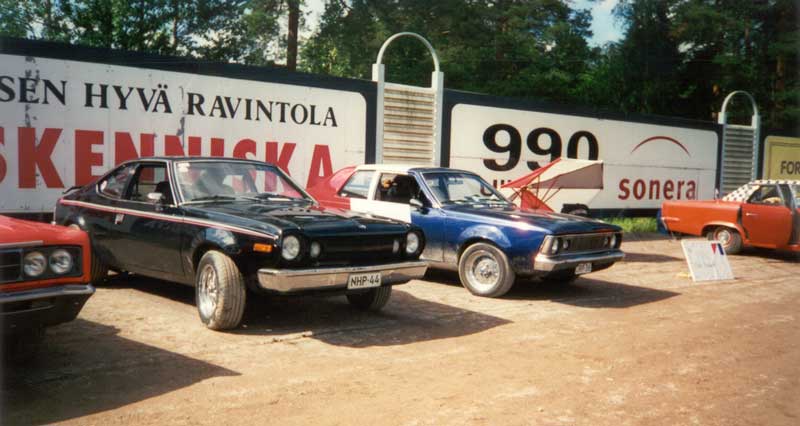 Petri Hasu's '73 Hornet Hatchback 360 4x2bbl was also at picknick, just like last year, and still looking quite good. Pictured by it is my '70 Hornet SST 304.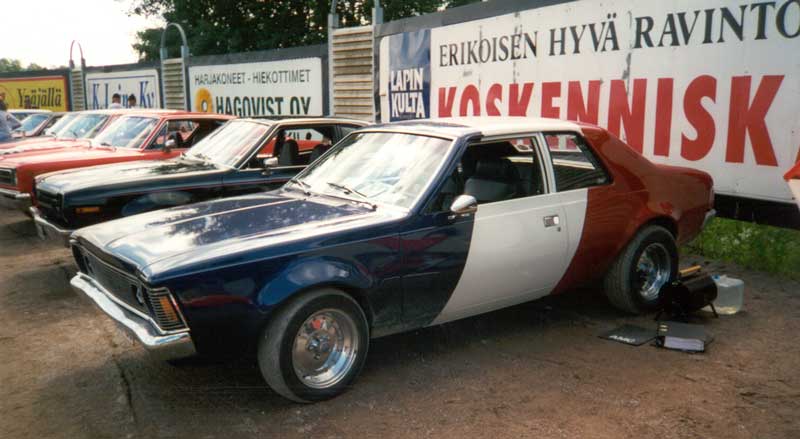 Another shot of my car, and as you can see, we did some grilling with that cylinder-grill right by the car. I scored AMC mudflaps at the swap, and will propably be installing them soon.. <grin> Note also the heavy bindex by the car, it's our club registry.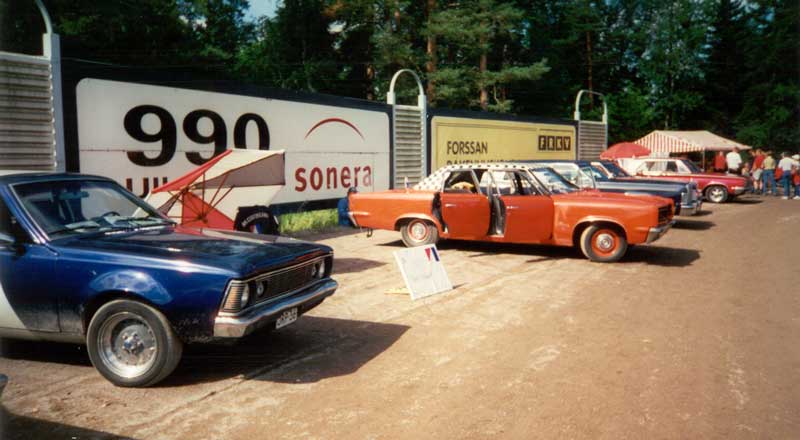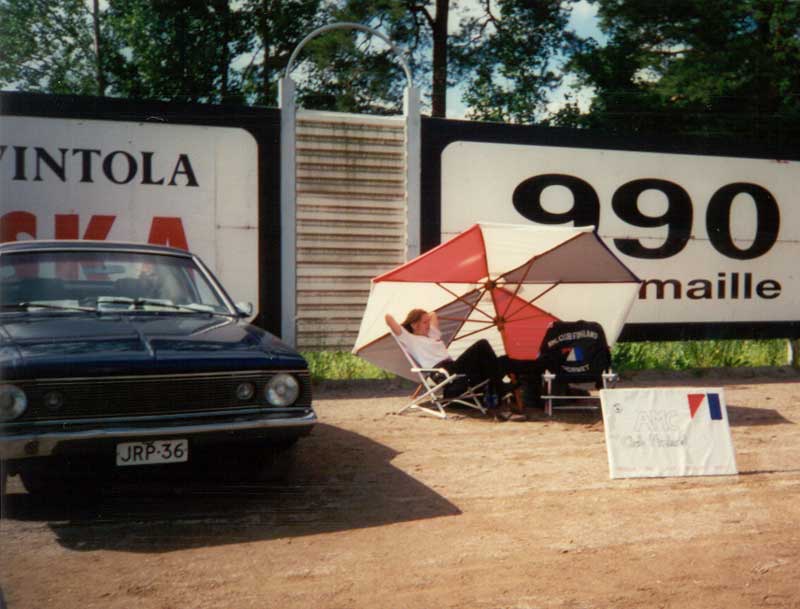 Anu and I took turns representing the club to whom ever wanted to chat, ask questions, or join the club. We got 5 new members at the meet and several people got our contacting info and took membership forms along, we'll see if they join up!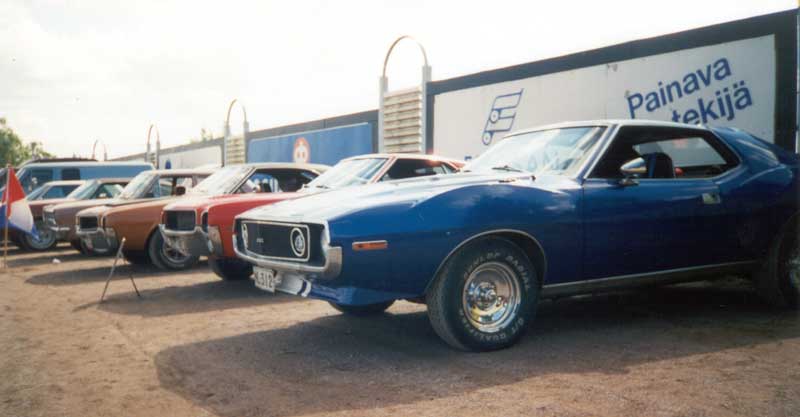 Here's another shot of Kokkola's 'cool blue' Javelin along with the AMX and Kulmala's Jav.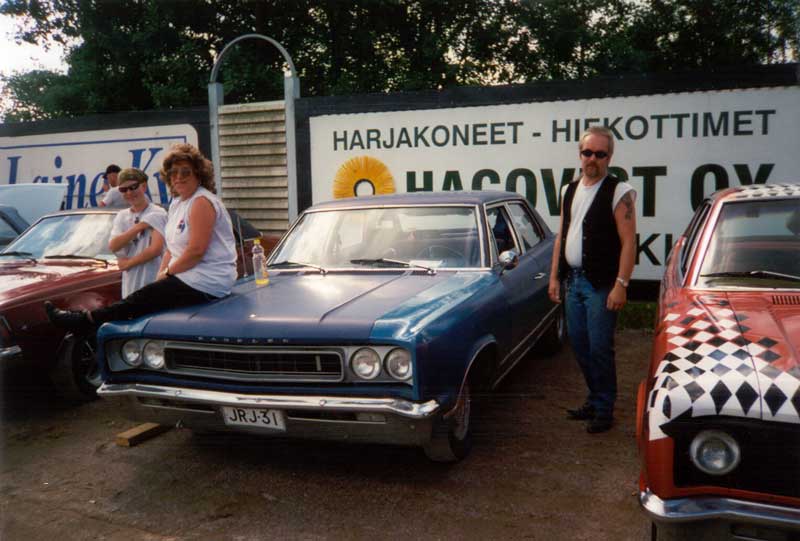 Jouni and Irmeli Lipponen also brought along their Junior AMCer ;) Their daily driver was looking good as usual.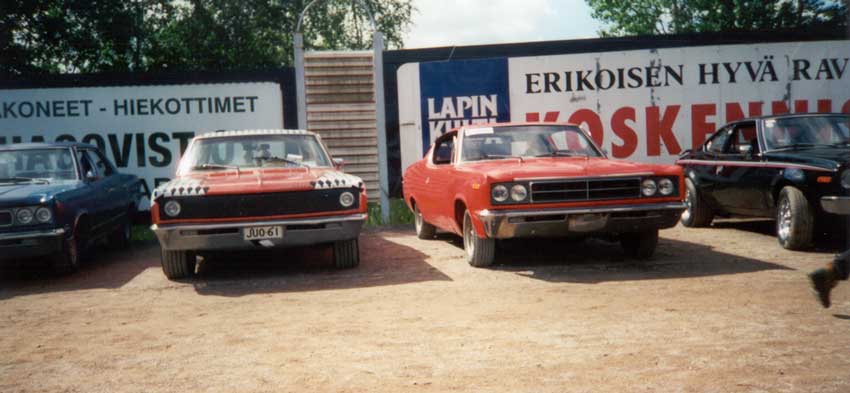 Here's another shot of Juha Makkonen's '70 Rebels.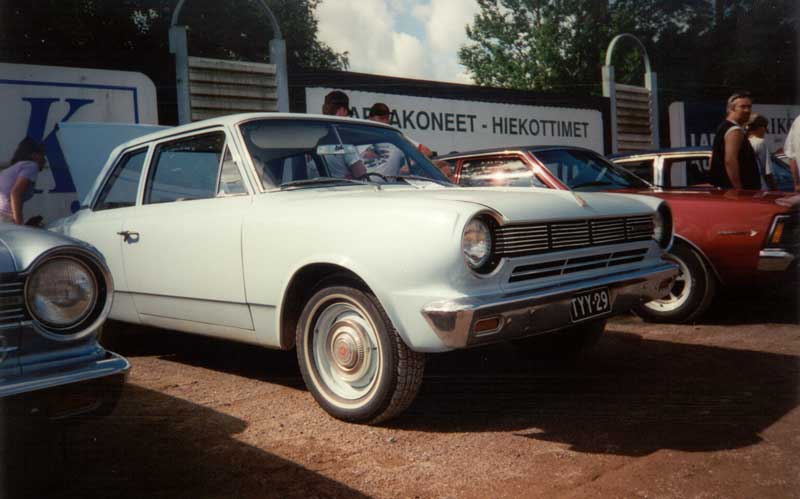 Here's a closeup of Juha Pihkanen's very much original looking '65 American 220 2D 196, it's just like it rolled off the dealership 36 years ago.Quite an accomplishment, congrats to him ;)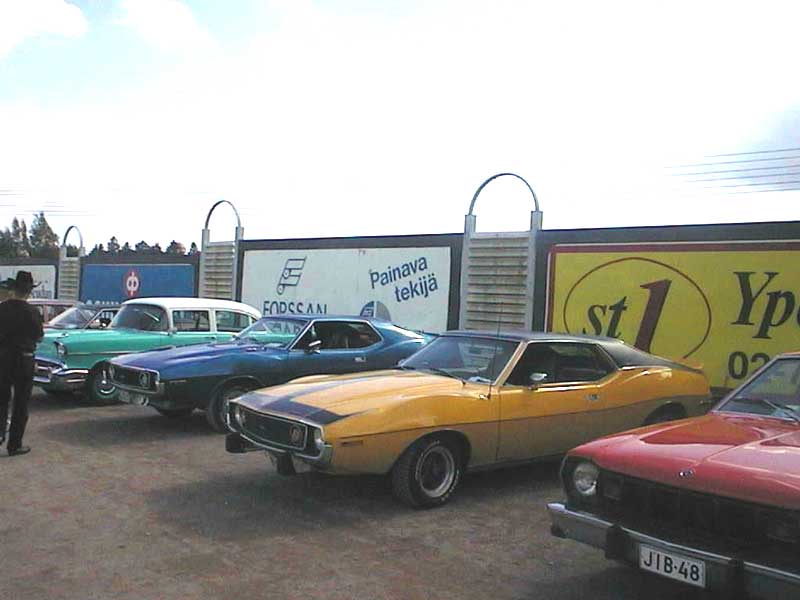 Johanna Kölli drove her '71 Javelin AMX 360 to Forssa, the car won 'best original car' at Pori Cruising & Camping. It's simply stunning and what better car to park beside than Kokkola's '71 Javelin AMX.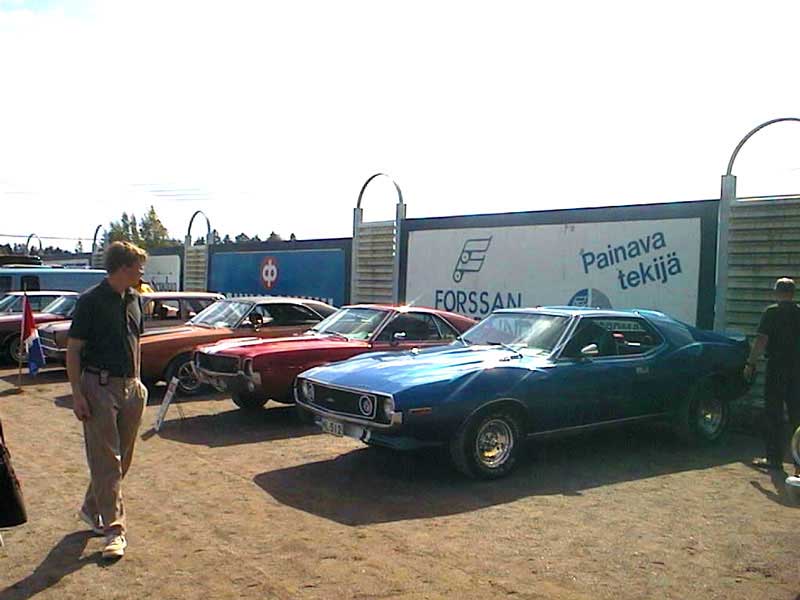 Here's one more pic of Kokkola's car beside the AMX.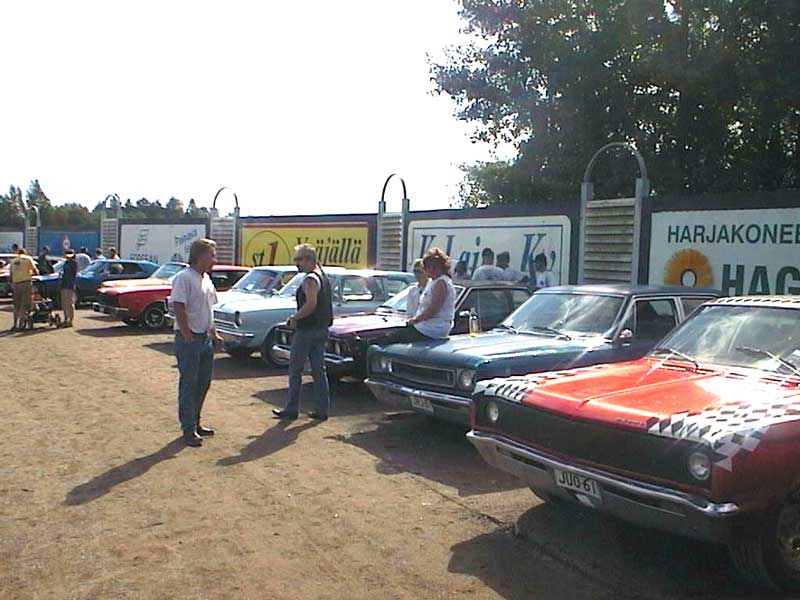 There was lots of time to hang out and chat with AMCers (if you weren't tied up in the clubs chairs by my Hornet...) and people got to know each other better and meet new people. Here's Tero Kinnunen whom drove his '67 Rebel with his brother Karzi Sinkkonen whom drove his '66 Classic Cross-Country Kustom all the way from Joensuu (across the country). I'll be posting pics of Karzi's Kustom VERY SOON!!!
Forssa Pick-Nick is also renowned for it's HUGE swap market, which covers basically any old stuff that you can think of. This year though it seemed that there were many sellers there that had absolutely nothing to do with old cars as they were selling pots and pans and other junk that in my opinion doesn't belong into a car-happening's swap market. But a positive thing was noted there as well, most of the vendors are starting to seriously recognize AMC/Rambler market, even the bigger vendors, when usually this marque was stuffed into "the others" box (3 other boxes being ford, gm and mopar) this year some vendors had 5 boxes for parts, AMC being one as equal to the big three marques. It was awesome. Hopefully more vendors pic up on this trend, as it was much easier to check the parts that were available, even if there weren't as many as for the other marques. Biggest finds at the swap were propably a complete and running AMC 360cid engine, a T-96 manual tranny elsewhere, a '71 Javelin toy-car and about a few dozen AMC/Rambler hubcaps.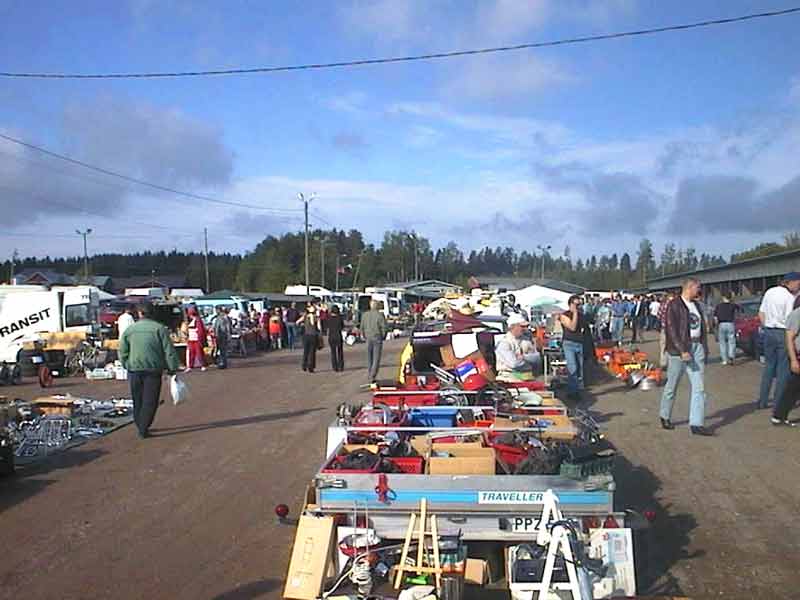 AMCs were not only recognized by AMCers, and as the car contest went on 3 AMCs (only 3? of the over 20 cars, oh well better next year) 2 were awarded. Karzi Sinkkonen's '65 Classic Cross-Country Kustom (chopped, lowered, well, a total very cool looking custom, which he bought from his half-brother Helge Nygren a few weeks back) got 3rd place in the 'Custom' category and the biggest suprise was when Kai Niemistö's '71 Javelin AMX 401 showed up and claimed FIRST PRICE in the '70s' category!!! The car is just like it was 30 years ago when it rolled of the factory line. Very cool indeed.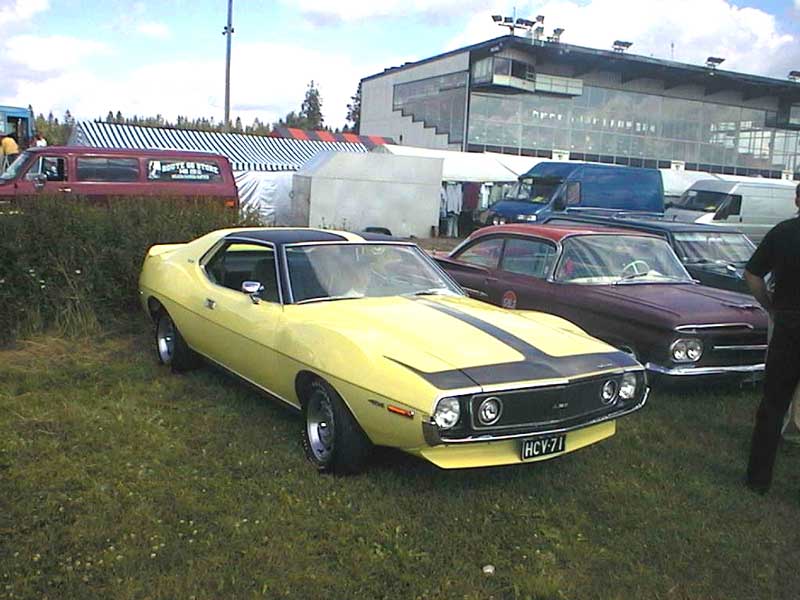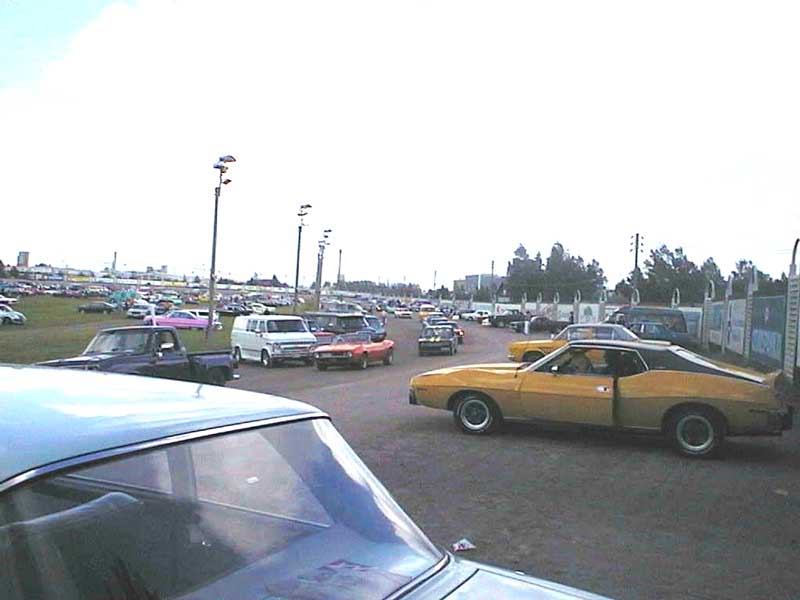 Around 6 PM the weather looked light it MIGHT rain (never did though) so people started lining up for leaving home, so it was time for us to head home as well. (in this pic you can also see the '67 American 220 4D that was mentioned in the Himos report as well) Next year it will be quite hard to top this year's event, there were about 30 AMCs there, and that's A LOT for a happening in Finland!!! So, if you weren't there, got an AMC/Rambler/Nash/Hudson/Jeep, there's absolutely NO reason why you shouldn't show up NEXT YEAR!!!
Thanks to everyone whom attended!
A-V / 17.8.2001