Camping & Cruising 2000 (Turku - Ruissalo)
In Forssa Pick-Nick a thought came to Juha Makkonen that there was still enough of the summer left to organize another AMCCF Meet. He contacted me a few weeks later and the meet was set up in Turku (Juha's home town). Juha did all of the organizing with some assistance from other local members and with a two week 'heads up' warning the meet was scheduled.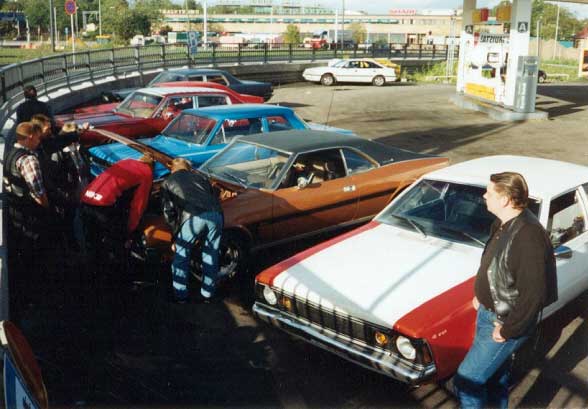 The Ramblers met up in a local Shell-station in Turku where we took some time to say hello and check out each other's cars. Pictured here are (left->right) Jouni Lipponen's daily-driver '67 Rebel 4d 232 from Lempäälä, Annastiina Virmavirta's nice looking '70 Hornet 2d 232 from Rauma, Juha Makkonen's '70 Rebel SST 4d 304, Petri Henttula's '65 American 232 Kustom, Aki Kulmala's '68 Javelin SST 390 and my '70 Hornet SST 304 with the new quite wicked looking BBO front fenders. Couple other members, like Timo Rytkönen, Kari Kokkola and Janne Valtonen also showed up but left their cars home. After about an hour we started off and cruised the streets of downtown for a few hours before taking off to Ruissalo Camping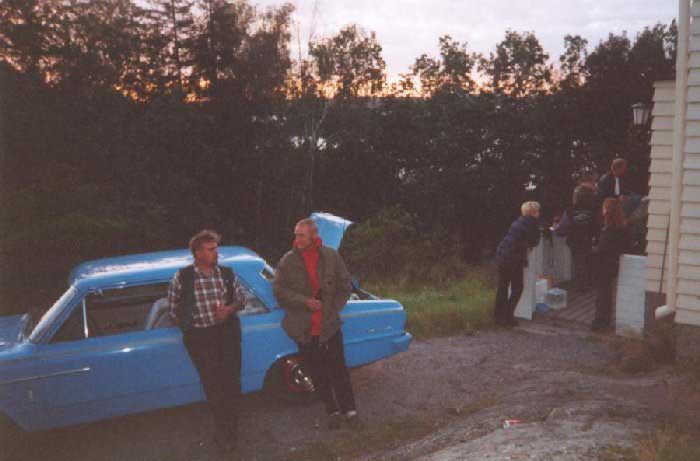 After checking out our accommodations we unpacked and parked the cars downhill. After firing up the grills and getting some refreshments Petri Henttula backed up his American right by the terrace and after that it was 'Rock'n'Roll All Night Long'. Henttula's American '65 showed an entirely new side of itself and turned into a rock'n'roll jukebox in about 10 seconds. Things were great. Good music, good company and nice cars, what else could a guy want. Intrestingly also there were as many ladies present in this meet as there were guys, this is propably Annastiina's 'fault' becouse she brought along a car full of them to the delight of the single guys there.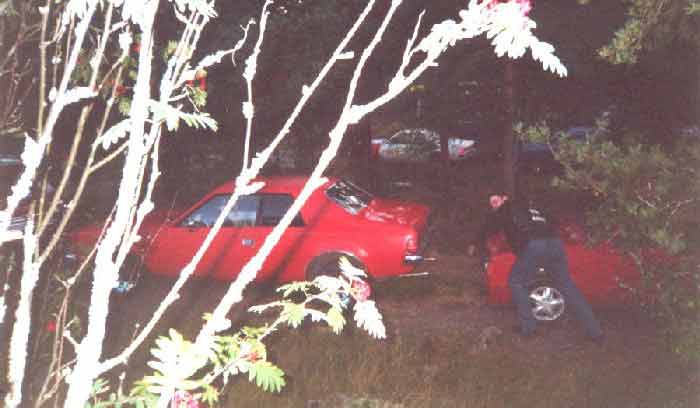 As you can see, it was "Ramblers Only". Janne Valtonen here, does a good job of covering up the car he arrived with (Timo Rytkönen's daily driver Opel). But the big question here is, How many AMCs can you find in that forest? =) Too bad I didn't have time to shoot more pics of the cars, so anyone with photographics evidence of the meet, get in touch...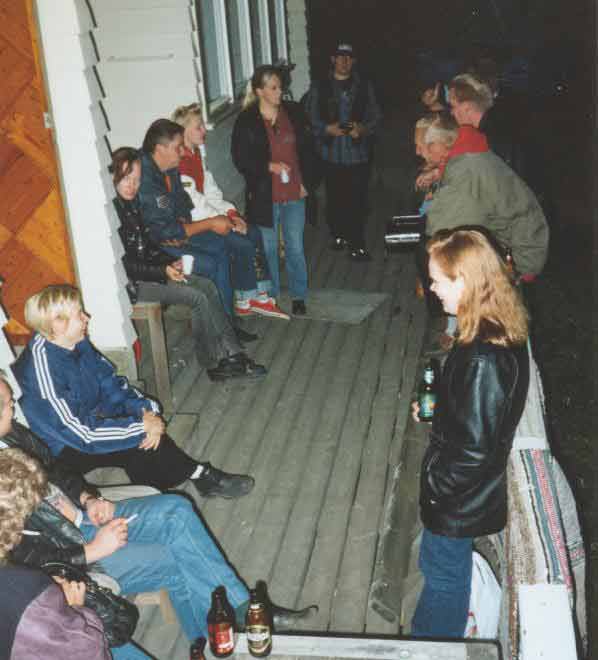 The Happening was really laid-back and while grilling some sausages, drinking a bit of beer and bettering the world, new and old members found a common note. There are absolutely no borders between ages in AMCCF and later that day we held our first club assembly with 10 full members present. Things really got rollin' for our brand new club.
Next morning it was time to leave, and it was decided that from now on, all of our club meets would be 2-night happenings. That way the meet would start Friday and end on Sunday. This was decided so we wouldn't run out of time NEXT time. And on a final note, I'd like to thank Juha Makkonen for organizing the meet! It was GREAT! /A-V Nauha